West's Global Communications Team
West Helps Women Explore Tomorrow's Technology
On March 25, 2017, West team members participated in the Girls Exploring Tomorrow's Technology (GETT) Expo, a STEM career exploration event for girls in Grades 5 - 10. West sponsored the event which took place at West Chester East High School in West Chester, Pennsylvania. Employees representing a variety of functions within the business helped to staff the booth.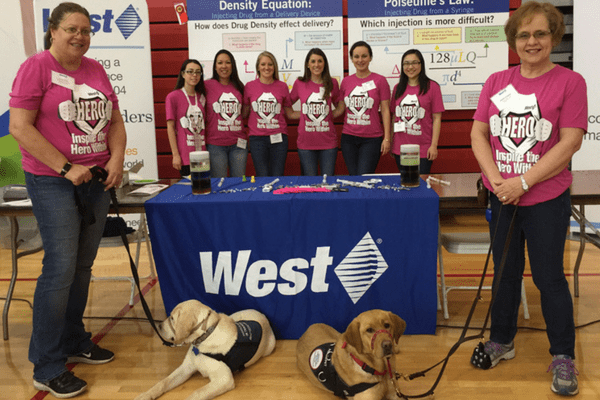 Statistics show that young women are not embracing careers in technology, despite an increasing need for skilled professionals in science, technology, engineering and math (STEM) fields. West has partnered with the STEM Academy in Downingtown, PA to share how careers in the STEM field can be fulfilling, fun and rewarding—personally, professionally and financially. The STEM Academy is an International Baccalaureate (IB) World School offering every student the opportunity to earn an IB Diploma. The curriculum creates an environment where students are engaged in rigorous, challenging academic work.
West's booth provided an opportunity to learn about STEM career paths, and hear from West professionals about their diverse backgrounds. Attendees were able to participate in a "Density and Viscosity" STEM activity, demonstrating how syringe use can be difficult with the viscosity of certain drugs. The activity showed them how our SmartDose® Platform offers a truly patient-centric approach to drug self-administration.
West's Community Affairs team was also in attendance, supporting West's philanthropic culture by bringing several dogs from Canine Partners for Life (CPL). West has a strong bond with CPL as our employees have donated thousands of hours helping train service dogs. Over 30 dogs have spent a part of their training time at West's Exton facility.
To learn more about West's Philanthropic mission, visit the Culture of Giving section on our website.
SmartDose® is a registered trademark of Medimop Medical Projects, Ltd., a subsidiary of West Pharmaceutical Services, Inc.West seeks partners for its SmartDose technology platform. These platforms are intended to be used as an integrated system with drug filling and final assembly completed by the pharmaceutical/biotechnology company.