West's Global Communications Team
West Named Supplier of the Year in Quality by Bristol-Myers Squibb
West is pleased to announce that the company has received the 2017 "Supplier of the Year in Quality Award" from long-time customer, Bristol-Myers Squibb (BMS). The award is based on West's excellent performance in quality, along with our flawless quality track record and responsiveness with diligent site engagement.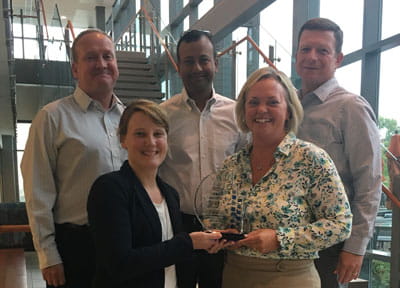 Bristol-Myers Squibb (BMS), traditionally known as a pharmaceutical company, has recently transitioned to being primarily a biopharmaceutical company. BMS has begun exclusively manufacturing biologic products at the Manatí, Puerto Rico site, and has partnered with West for elastomeric components. West supplies Daikyo stoppers for many of BMS's key biologic products, such as Opdivo and Yervoy. The components receive Westar® processing at West's Jersey Shore, PA facility. West is pleased to provide the highest quality products and services to BMS, and to work by their side to improve the lives of patients around the world.
West's relationship with BMS has progressed from a transactional relationship to a very close partnership. West's Lauren Orme (pictured above, first row on the left), Technical Account Manager, accepted the award on behalf of West at the 2017 BMS Supplier Conference.
"West is proud to receive such a prestigious award from one of our biggest biologic customers," said Jeff Smythe, West Account Manager for BMS. "We not only pay tribute to all who made this possible at West, but also to our partners at Daikyo Seiko. We look forward to continuing to build a stronger partnership with BMS in the future."
Watch this episode of our West on the Road series to see how West employees at our Clearwater, Fl. facility deliver high-quality components for customers.
Westar® is a registered trademark of West Pharmaceutical Services, Inc. in the United States and other jurisdictions.