Catriona Kennedy
Manager, Global Communications, EU
Official Opening of Expanded Kiefernweg Campus & New Center of Excellence for Innovation and Technology in Eschweiler, Germany
On 9 November 2017, West officially opened our recently expanded Kiefernweg Campus in Eschweiler, Germany, which includes a new global center of excellence for the research and development of pharmaceutical packaging components and systems for injectable medicines.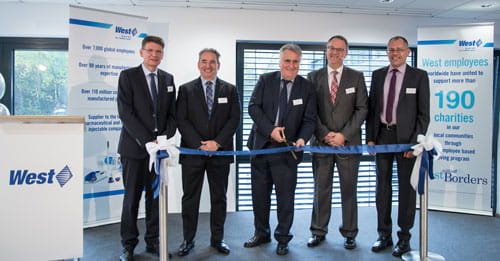 The new 6,500 square meter campus includes two new office buildings, the original Kiefernweg office, and an Innovation & Technology center of excellence, which was created to consolidate and align West's global R&D offices that previously operated in several different sites across Germany.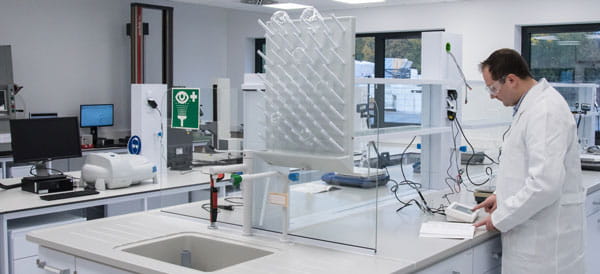 There are approximately 185 people working at Kiefernweg in product development, engineering, manufacturing, quality, supply chain, procurement, EHS, sales and marketing, technical and customer services, and other general administration functions, such as Human Resources and Finance. West also maintains two manufacturing plants nearby in Eschweiler and Stolberg, which are part of the Company's global manufacturing network.
Rudi Bertram, the Mayor of Eschweiler, as well as representatives from charities supported by the Company's West without Borders charitable program, and local media joined the celebration. Rudi Bertram commented, "I welcome the developments at West Pharmaceutical Services. It secures jobs and strengthens Eschweiler as an industrial location."
West is also a long-time supporter of the local community. As part of the ribbon-cutting ceremony, West presented two local non-profit organizations with donations, on top of local employee-raised contributions that were collected as part of the Company's grassroots employee giving program. Fortschritt Staedteregion Aachen e. V. provide conductive therapy for children and young adults with conditions that affect motor function, such as multiple sclerosis, strokes and Parkinson's disease. The other organization, Zwischen Uns e. V offers a place of employment to young adults with mental and physical disabilities.
Marita Holper from Fortschritt said, "West has been supporting our charity's work for five years now, and over and over again your employees have demonstrated their commitment, support and remarkable loyalty. It is very encouraging to know that you care and continue to support our work - it inspires us to get even better."
The day's proceedings closed with guests mingling over light refreshments, with some external guests enjoying a site tour of the I&T center of excellence, hosted by Reinhard Waeben, VP, Innovation & Technology.
Learn more about our culture of giving here.