West's Global Communications Team
West's 2018 Ambassador Internship Program
For 10 years, West has offered a summer internship in many of its U.S. locations. The Ambassador Internship Program has grown from hiring two interns in its first year to hiring 38 interns in 2018.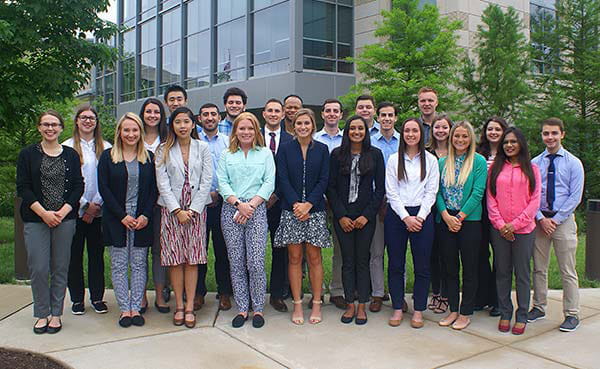 We strive to make the internship program a valuable experience, and demonstrate to the next generation of professionals why West is a great place to work. The internship program is a wonderful opportunity for the interns themselves to gain real-world experience, but it is also a great opportunity for West to identify potential future team members. Since the program started, we have hired 56 interns as full-time employees at West.
The 2018 class of interns joined West for 10 weeks beginning at the end of May. The 38 interns were spread across nine of our U.S. locations supporting 24 different business functions. The interns worked on projects ranging from data analytics and the website, to creating a subject matter expert database. We are continually impressed with the quality of candidates that join us each summer and the wealth of contributions they make, fresh perspectives they bring and level of commitment they demonstrate.
Below, one of our 2018 interns shares her experience at West this summer.
My Experience at West: An Intern's Point of View
When I applied for an internship at West Pharmaceutical Services, I was unaware of the reach and impact that West truly has around the world. I would presume that many people, myself included, may not have heard of West before. I was surprised to learn their products have most likely been vital in the treatment and care of people I know, even my closest friends and family.
From the moment I walked through the doors at West on the first day of my 10-week internship, I knew it was exactly where I wanted to spend my summer. I was both excited and nervous, but the nerves didn't last long thanks to the warm welcome and excellent training I received from Human Resources and members of the Global Communications team. I was immediately struck by the professionalism throughout the entire office. It was clear that the West Ambassador Internship Program was going to offer much more than I expected in terms of overall experience, career insights, professional development and networking opportunities.
As an intern for the Global Communications team, I worked on numerous projects including supporting the administration of a global employee engagement pulse survey, writing internal and external communications, creating a global calendar and assisting with charitable giving initiatives. My boss, Eric Haman, and the rest of the Communications team challenged me with extensive but rewarding projects throughout the summer. I felt that my insights were valued, and my work was appreciated. I felt that the internship provided me with many opportunities to apply the knowledge I've gained at Penn State University to real world business situations.
On top of these opportunities to contribute, the summer was filled with activities that provided real-world practical experience through mentoring groups, lunch and learns, meetings with the executive team, and roundtable discussions with previous West interns who have since been hired. We even traveled as a group to visit the West's manufacturing plant in Jersey Shore, PA, to see West's operations in action. We were also immersed in West's culture of giving by taking part in philanthropic events, including Exton's West without Borders campaign and a volunteer day at Canine Partners for Life®.
The Ambassador Internship Program at West by far exceeded my expectation. I can truly say that this internship was one of the best experiences of my life thanks to my boss, members of the communications team and my fellow interns. Ten weeks passed by too quickly, but I will always remember my summer at West. I would gladly recommend this internship program to any students looking to gain an invaluable experience.
- Brooke A. Miller
West without Borders is not affiliated with Doctors Without Borders®, which is a registered service mark of Bureau International de Médecins San Frontières.
Canine Partners for Life® is a registered service mark of Canine Partners for Life in the United States.