Deirdre Swinden
Director, Marketing Communications
West Celebrates Official Opening of New Global Manufacturing Facility in Waterford, Ireland
West is pleased to announce the official opening of its new Waterford, Ireland facility, a global center of excellence for West's advanced manufacturing network. The opening was celebrated on July 19, 2018, when customers and senior-level Irish government officials joined West executives at a ribbon-cutting ceremony.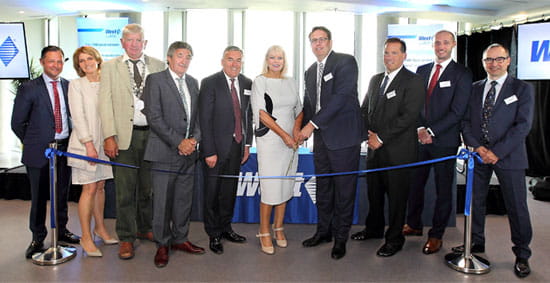 Noted West President and CEO Eric Green in a recent press release, "West is very pleased to celebrate the official opening of our state-of-the-art facility in Waterford…Our investment in Waterford, in addition to our previously announced investments in Kinston, N.C., Jurong, Singapore, and Dublin, Ireland, enable West to provide the highest levels of quality across the products and services we provide for the global customer base we serve."
The new, 20,500 square meter facility is situated on a 44-acre campus, and will produce West's proprietary elastomeric laminate sheeting, used to package insulin for use in pen injectors. Additionally, it will offer high-value finishing for components, including stoppers and plungers, produced at other West facilities around the world. These services, designed to mitigate the risk of potential contamination and compatibility issues with packaging components, include pharmaceutical washing (Westar® RS components), Envision® verification, steam sterilization (Westar® RU components), and flexible packaging offerings.
West's Waterford facility currently employs approximately 100 people in both local and global functions, with plans for additional hiring. Commercial production in Waterford is expected this year. West also has a manufacturing and development center in Dublin that provides design, development and manufacturing services for pharmaceutical and medical technology customers. The Dublin site recently completed an expansion to accommodate new customer programs and employs approximately 600 people.
For more information on West and current job openings in the region, please visit the careers section of our website.