West Global Communications Team
West's 2018 Ambassador Interns Volunteer at Canine Partners for Life
Summer interns from West's Exton, Pennsylvania headquarters recently participated in a volunteer day at the newly renovated Canine Partners for Life facility in Cochranville, Pennsylvania.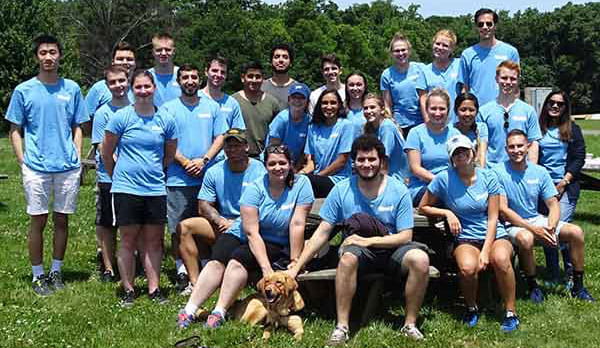 Each summer, West welcomes a new class of interns in many of its U.S. locations as part of our Ambassador Internship Program. This 10-week program is designed to give recent or soon-to-be college graduates work experience, and this year our interns are supporting West in more than 20 departments across our business. To give our interns a truly authentic West experience, they are not only given opportunities to contribute to our business, but also our community.
Giving back to the community is a long-standing tradition at West, and an important part of our culture. The interns spent the day cleaning windows, painting, helping with administrative work and improving areas around the new CPL facility.
Canine Partners for Life (CPL) primarily focuses on increasing the independence and quality of life for individuals with physical, developmental and cognitive disabilities by providing them with a service or companion dog. CPL's comprehensive, two-year training program provides highly skilled and trained dogs to people in need. In addition to learning advanced obedience and social skills, service dogs learn techniques to help people with disabilities meet the challenges of daily living. CPL also takes great pride in its advanced training for seizure, cardiac and diabetes alert dogs.
West's relationship with CPL began in 2010 when the Exton employees selected the charity as the recipient of their annual employee-led West Without Borders fundraising campaign. Many West employees also provide temporary homes to CPL dogs in training. On any given day, it is extremely likely to see a CPL dog in training wagging its tail walking through the corporate halls of West.
If you are interested in volunteer opportunities with Canine Partners for Life, learn more here.
West without Borders is not affiliated with Doctors Without Borders®, which is a registered servicemark of Bureau International de Médecins San Frontières.