Gillian Power
Specialist, Global Communications, EU
Dublin Continues Support of Temple Street Children's Hospital
The team at West's Dublin facility continues to be a strong supporter of Temple Street Children's Hospital, and in the past seven years has raised over $260,000 for the foundation.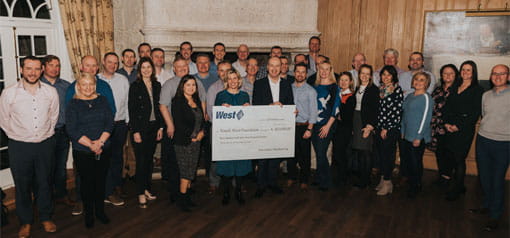 The most recent donation was used to purchase dialysis machines for the renal unit. Temple Street's Accident & Emergency Department is one of the busiest in Europe with 57,000 patients coming through their doors each year, and the purchase of these units will greatly enhance the experience for thousands of young patients every day.
"It is a great privilege to organize fundraising events for such a great cause," said West volunteer Stephen O'Donoghue, Senior Engineer, Dublin. "Being a father myself, the Temple Street Foundation is a charity that is very close to my heart. To work with our suppliers to raise much needed funds and host the West Golf Classic is very rewarding and enjoyable."
The money was raised by several events onsite in Dublin hosted by West team members. It included raffles for concert and rugby tickets, a static cycle the length of Ireland, The Great West Bake, participation in Dublin's VHI mini marathon and a hugely successful golf classic.
"It is always a great day of fun and comradery at work," said West volunteer Anne O' Donnell, Quality Compliance Manager, Dublin. "The effort put in by our colleagues at home to bake such amazing cakes always humbles me. It's days like this that make working here so worth it."
An acute national pediatric hospital located in Dublin, Temple Street has numerous major specialties, including neonatal and pediatric surgery, neurology, neurosurgery, nephrology, orthopedics, ENT (ear, nose and throat) and plastic surgery. The Hospital is also the location for the national center for pediatric ophthalmology, the National Pediatric Craniofacial Centre (NPCC), the national airways management center, the Irish Meningitis & Sepsis Reference Laboratory (IMSRL), the National Centre for Inherited Metabolic Disorders (NCIMD) and the National Newborn Screening Service (NNSS). Temple Street cares for 150,000 children per year.
For more information about West's giving visit Our Culture of Giving page on our website.