Tara Haarlander
Sr. Specialist, Scientific Communications
What's New in the Knowledge Center?
West has been busy behind the scenes building our offerings in the West Knowledge Center. The Knowledge Center launched just over a year ago, and since then we've more than doubled our content based on customer requests and real-time data and analytics.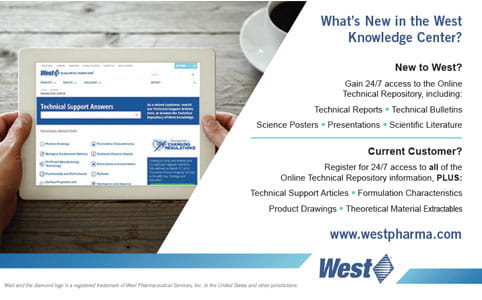 Each quarter, we'll announce new content updates through our quarterly "What's New in the Knowledge Center?" blog series. In the blog, you'll find highlights of the latest new documents and information recently added to the Knowledge Center. If you subscribe to our blog or are a customer-level user in the Knowledge Center already, this update will be delivered straight to your inbox.
So "What's new?" this quarter? Regulatory Compliance Certificates
You can now access a selection of our Regulatory Compliance Certificates 24-7, with no wait time or delay. These documents provide key regulatory information regarding West component(s) and are available to customers only. If the certificate that you need is not available, contact our Regulatory Affairs team at RACertTeam@westpharma.com. Make sure to specify your eight-digit West item number and your exact requirement(s).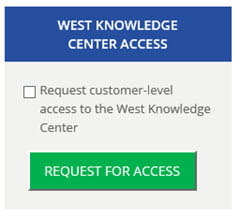 Don't have a web account with West? Please register here for automatic customer-level Knowledge Center access.
Already registered? If you've made a purchase from West in the past two years but are not a customer-level user, please sign in here, go to your account settings and click "Request Customer Level access."
Remember to also check our website often, as we are constantly updating our content to meet your needs.