Andy Polywacz
Vice President, Quality & Regulatory Affairs
By Your Side for Optimal Patient Outcomes – A Quality Perspective
In order to ensure the best quality drug product and optimal patient outcomes, it's important for drug manufacturers to foster a collaborative effort with their packaging suppliers from the beginning – and that means starting with the patient in mind. Understanding patient needs and how that drug will be delivered, whether through one of West's delivery devices or some other device, will help determine the needs within the West manufacturing process.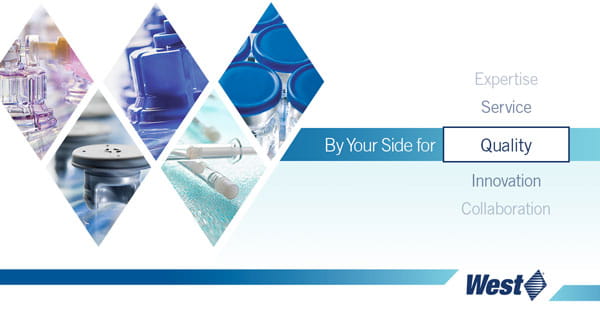 By working by the side of our customers early in the drug development process, we are able to clearly understand what the specific containment and delivery requirements are for their drug product and select the appropriate packaging and delivery systems and materials. These early conversations allow us to align capabilities across the globe to meet high-quality expectations throughout the entire manufacturing process.
For example, we need to consider the particle load throughout the supply chain – including other facilities, materials and processing involved in the production and delivery of the drug product – to ensure that we're mitigating any additional burden that may exist later in the process that could impact the final quality. West takes an active role in supporting our pharmaceutical partners in this process, working collaboratively to develop a solution for the total supply chain.
In addition, quality standards are incredibly important when it comes to the combination of emerging drug molecules and delivery devices. Previous standards didn't necessarily take into account the unique containment needs of biologics or other large molecule drugs. Additionally, old standards didn't address the total drug containment and delivery system, but instead focused on individual components, such as stoppers and vials. It's a completely different supply chain, and the standards need to be updated to address the needs around current drug molecules and delivery systems as well as future therapeutic offerings.
Working by the side of our customer, we can ensure that patients are always in the forefront of the production process, and that the quality of our manufacturing reflects the need for optimal patient delivery. When we understand better how our products will be used and what's needed to align the capabilities, we can meet or exceed the quality expectations needed for our customers and ultimately the patient.