Santina Zouras
Global Communications Intern
West Interns Volunteer at Thorncroft Equestrian Center
Recently, West Interns from the Exton headquarters volunteered at the Thorncroft Equestrian Center in Malvern, Pennsylvania. Established in 1969, Thorncroft is a Therapeutic Equestrian Center that provides horseback riding to children and adults with mental, emotional and physical disabilities, with the mission to develop the physical and emotional well-being of all people, regardless of their individual challenges. As volunteers, the interns participated in various maintenance activities around the farm to help preserve and support the valuable experience that Thorncroft continually provides to our community.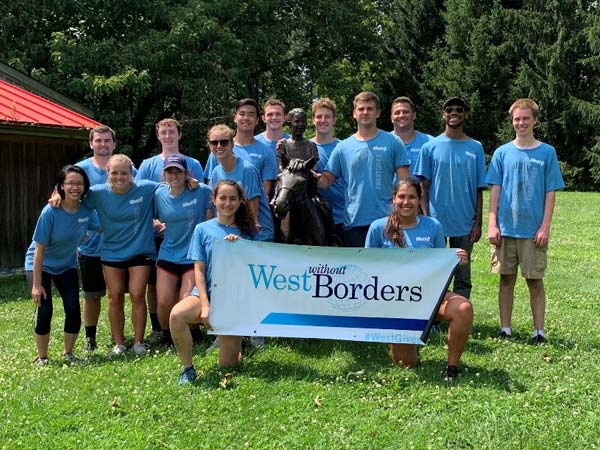 The Thorncroft Equestrian Center functions as any farm would, with an endless amount of maintenance work needed to provide an enjoyable experience to both the people and horses alike. As members of the West Ambassador Internship Program, the 15 intern volunteers worked hard to assist the center in much needed work, including washing windows, installing a gate, painting, weeding, mulching and mucking stalls. Their volunteer work highlighted the selfless approach that the farm takes to providing therapy to their riders.
"I was surprised at all of the work it takes to maintain the farm and stables," said Ashley Pyne, a finance intern at West. "I found it inspiring how the employees and volunteers at Thorncroft spend their everyday lives giving people with disabilities the chance to experience happiness through horseback riding."
One West intern has a direct connection to Thorncroft, which contributed to the dedication and compassion towards her volunteer work. Samantha Elduff, a scientific affairs intern, has a family member that receives care from the equestrian center.
"Thorncroft is an incredible family that is devoted to creating an all-inclusive world. It was an honor to be part of such an honorable cause," Samantha added.
Thorncroft believes that love and respect promote true healing and enable growth to occur, a feeling that was evident throughout the day, from the moment the interns arrived until their work was finished at the end of the day.

For more information on Our Culture of Giving click here.