Marisa Leuzzi
Senior Specialist, Corporate Communications
Team Member Spotlight: Haley Boardman, Senior Specialist, Marketing Operations
At West, we are by the side of our team members - supporting your training and development needs, providing opportunities to advance in your career and reach your full potential, while maintaining your well-being and work-life balance. In our Team Member Spotlight, learn more about what it is like to work at West and hear about the experiences and careers of some of our team members around the world.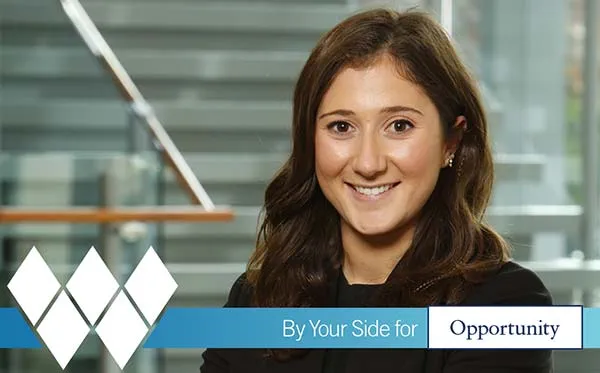 How long have you worked at West? Tell me about your role.
I've been working at West since 2015. I started out as an intern on the Sales Operations team while pursuing my undergraduate degree. As an intern, I met many team members from different departments, gaining valuable career advice and learning about how they got to where they are in their careers. I really enjoyed working at West and I knew it would be a great fit as a full-time position after I graduated.
In 2017, I was delighted to join West full-time on the Technical Customer Support team and most recently I became a Senior Specialist in Marketing Operations, which falls under our Marketing and Product Management team. In my role now, I work on initiatives to optimize our portfolio to reflect the high value products we want to introduce into the market. I act as a liaison between Product Management and Global Operations to ensure we can meet customer needs, but also to support West's overall strategy.
What do you like most about working at West?
The people I work with every single day. There is a great sense of camaraderie among my team, and I also like interacting with different teams and departments on a regular basis. The Women's Investing & Networking (WIN) group is a great way to connect with people you don't work with every day. I am also part of the West without Borders team, which is our employee-led giving program where we organize events and fundraisers for local charities in our community. I have noticed that there are lots of ways for team members to get involved at West. It could be as small as donating part of your paycheck to give back or getting involved in delivering gifts during the holiday season for families in need. Working together to help others creates a great atmosphere in the office and everyone is very proud of the philanthropic work we do at West.
What makes West a unique place to work?
West is a unique place to work because of all the unique people who work here. I feel like every team member has their own individual story as to how they got to where they are today. Their experiences and career paths are all so different and as a young professional, getting the opportunity to work with them and spending time with these colleagues helps me to see that there are endless opportunities for growth and development in ways I did not think were possible.
How does West aid you in balancing your work life and family, friend and social life?
The people and culture at West make it possible to balance not only my work life, but have time for friends, family, and a social life. At West, it is easy to surround myself with coworkers that understand the importance of taking a lunch break or a quick afternoon coffee break to be my most productive self. There are also events and opportunities at West that allow me to incorporate my personal life into my work life such as philanthropic events, team building activities and social events. Last year, one of my friends and I participated in "the Light the Night Walk" in aid of the Leukemia Society. The large number of West people that participated was just breathtaking, and my friend was astounded that so many people from our company came together to do something like this to help others.
When you think about the West tagline: "By Your Side for a Healthier World™" – what does that mean to you?
Last year my Mom was going through cancer treatment and I was able to see West products at work first-hand and the positive impact they can make on a patient. To know that my Mom was going through this and West products were helping her fight this disease, brought everything full circle for me. We are not just providing rubber components or working in the lab doing studies every day - everything we do ties back to the patients at the end of the day and it has a whole new meaning when it involves a loved one.
To learn more about working at West, visit our Careers page.
#WhyJoinWest #WestByYourSide
By Your Side for a Healthier World is a trademark of West Pharmaceutical Services, Inc., in the United States and other jurisdictions.

West without Borders is not affiliated with Doctors Without Borders®, which is a registered service mark of Bureau International de Médecins San Frontières.