Silji Abraham
Chief Digital and Transformation Officer
Digital Tools for a Digital World
Today's business environment demands a seamless and continual transition of digital experience to conduct business and engage various stakeholders in the same way we conduct the rest of our lives outside work. The experience expectation is consistent across devices of choice from phones to tablets to laptops. That's why West partners with the world's top pharmaceutical, biotech, device and diagnostic companies to embrace technology that supports the patients they serve with online resources and tools to better manage their health. In turn, we're looking to support our customers with digital tools to help speed the research and development process of bringing life-saving medicines to patients that need them.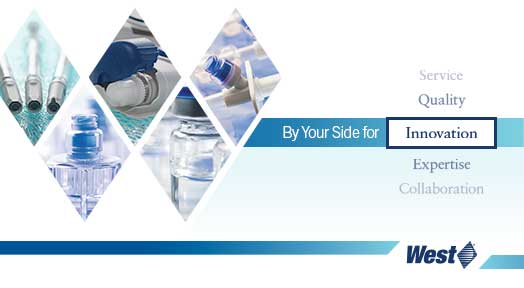 Companies seeking to bring an injectable medicine to market are required to complete an immense amount of research on the medicine itself, but they must also study the containment or device options to help ensure that medicine is delivered safely to the patient. The regulatory hurdles associated with combination therapies that include both the medicine, together with a device, represent a host of additional regulatory requirements.
To support customers, West's Knowledge Center offers an online repository of scientific and regulatory support content that can help customers get the information they need quickly to manage this regulatory process. West also offers commonly requested, detailed product information, including specifications and drawings, on our entire portfolio of elastomer packaging components, pre-filled syringe solutions and wearable devices. Recently, we added the ability to purchase some of these same products through our online store. All of these services are available across a range of digital platforms, so that customers can easily access this information 24 hours a day, regardless of the device they use.
This is just one of the ways West is working to Simplify the Journey™ for our customers, by making it easier for our customers to do what we consider to be some of life's most important work—developing innovative new medicines to address unmet medical needs. To learn more watch the above video or visit the West Knowledge center.
#SimplifytheJourney #WestByYourSide
Simplify the Journey™ is a trademark of West Pharmaceutical Services, Inc., in the United States and other jurisdictions.