Beth Crawford
Associate Specialist, Global Communications
Herman O. West Foundation Awards Eleven Scholarships
West is excited to announce the 2019 recipients of the Herman O. West Scholarship. This year, the Herman O. West Foundation awarded scholarships to eleven children of West team members.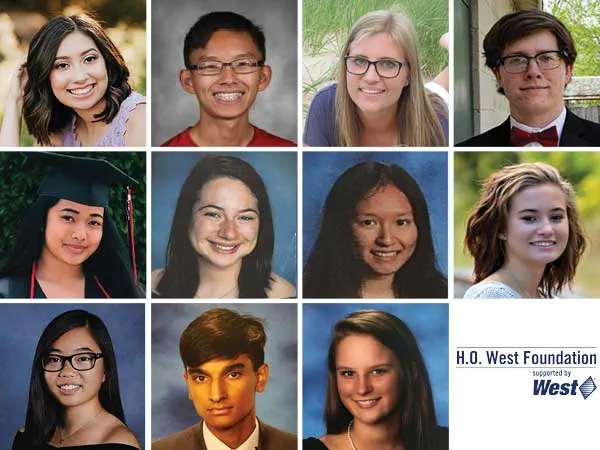 The Herman O. West Scholarship Program awards scholarships to children of full-time U.S. West team members who have demonstrated achievement in their academics, extracurriculars and community service activities. To be eligible, candidates must be preparing to enter a four-year or two-year college or technical school.
Out of nearly 45 applications, the eleven scholarship recipients were chosen by an independent Scholarship Selection Committee based on the following excellence criteria: character, maturity, leadership, extracurricular activities, motivation, interest and desire, predicted success in college, and academic achievement. Over the past five years alone, the Foundation has awarded scholarships to over 45 students attending over 35 different colleges and technical schools, whose parents work at over ten U.S. West locations.
West would like to congratulate the following eleven students who have received 2019 scholarships and wish them all the best in their academic endeavors:

Isabelle Aguirre: Tempe River, AZ — University of Arizona
Kenneth Ching: Upper Darby, PA — University of Pittsburgh
Makyla Lieb: Grand Rapids, MI — Muskegon Community College
Bryson McGlynn: Kinston, NC — East Carolina University
Tessa Norech: Tempe Rockford, AZ — Corban University
Lucia Padilla: Exton, PA — Massachusetts Institute of Technology
Tracy Pham: Clearwater, FL — Florida State University
Montana Rutt: Jersey Shore, PA — Edinboro University of Pennsylvania
Alyssa Saito: Exton, PA — Haverford College
Rohan Sidhu: Scottsdale, AZ — University of Michigan
MacKenzie Summers: St. Petersburg, FL — University of Central Florida
Established in 1972, the Herman O. West Foundation honors Herman O. West, one of the founders of West Pharmaceutical Services, Inc. One of the scholarships awarded, the William S. West Scholarship, is made possible through a gift to the Foundation from Mr. West's family in memory of West's former Chairman & CEO. In addition to providing scholarships to the children of team members, the Herman O. West Foundation supports team members through matching gift and emergency relief programs. Donations from U.S. full-time employees to organizations that hold 501(c)(3) designation are matched by the Foundation up to $1,500 per employee. This year, the Employee Emergency Relief Fund was launched to support employees during times of unexpected hardship. It is funded by employees, for employees and matched 2:1 by the Herman O. West Foundation.
West's culture of giving is about more than our team members' dedication to improving the communities where they live and work. It also encompasses West's responsibility to make a difference in the lives of our team members. Every member of our One West Team provides a crucial piece of the puzzle to our continued success. West is proud to support our team members and their families as they encounter new challenges and life events.
To learn more about the Herman O. West Foundation and West's culture of giving, please click here.
Disclaimer: The Herman O. West Foundation is an independently managed 501(c)(3) entity, which awards scholarships and matching gifts.