Santina Zouras
Global Communications Intern
West Ambassador Interns Visit Jersey Shore and Williamsport Locations
Recently, 16 of the interns from the 2019 West Ambassador Internship Program visited two West sites in Jersey Shore and Williamsport, Pennsylvania. As interns from the corporate headquarters, the tours of the two local manufacturing locations offered a unique perspective to contrast the corporate experience. During the Jersey Shore and Williamsport tours, the interns were given a different experience to visualize the making of the product itself.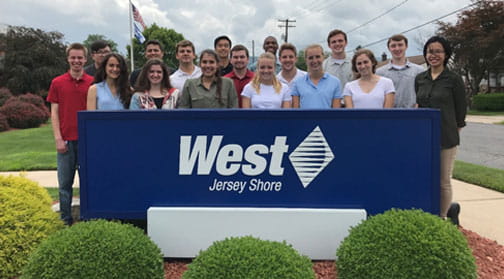 As an intern for West, one will often stumble across stoppers distributed during product training and experience pictures of the products showcased across the corporate walls. This week, the two tours brought a completely new perspective of working for a pharmaceutical services company to life and enabled the Exton interns to experience firsthand the product manufacturing process.

The high level of importance placed on safety attire also contributed to the excitement of the hands-on experience. As an ISO 9001 Certified Facility, Jersey Shore has a large focus on quality management in their production. Particulate matter inside of the facility must be controlled to maintain the high quality of the product. Each of the interns were required to wear gowns, safety glasses, plastic footwear covering, hair nets and beard nets before entering the facility to help reduce the risk of particulate matter.

"It was interesting to see what actually goes on inside of a manufacturing plant and how many health, safety and sanitary precautions are taken in order to be effective," said Procurement intern, Sam Vogel.

After Wednesday's trip, the 16 West interns had an entirely new understanding of West's products, as well as the relationship between corporate and manufacturing operations.