Marisa.Leuzzi@westpharma.com
West Working By the Side of our Communities
Working at West means being part of a culture of giving and working by the side of the communities where we operate. Our team members are passionate about making a difference and donate considerable time and resources through our corporate giving and volunteer programs. West's giving strategy focuses on three elements: corporate giving through direct charitable gifts made by West Pharmaceutical Services, Inc., scholarships and matching gifts awarded through the Herman O. West Foundation, an independently managed 501(c)(3) entity and our team member-led giving program, West without Borders*.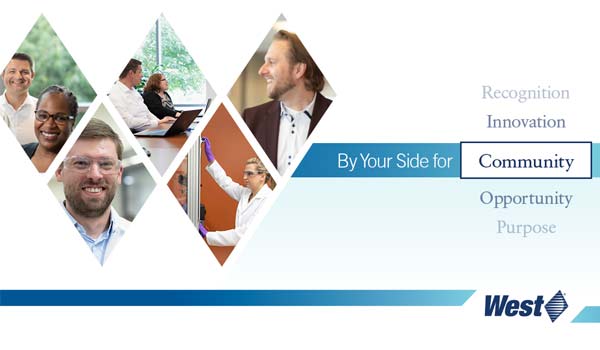 West without Borders builds upon our culture of giving back to the communities in which we live and work. West team members regularly come together to give back to the local community. WestGives, our online portal, also offers team members the ability to search for volunteer opportunities in their community and track volunteer hours for West-sponsored events.
For many years, West has targeted its philanthropic efforts to support charities focused on children, people with disabilities, healthcare and education, with a focus on STEM (Science, Technology, Engineering and Math). Since the inception of West without Borders in 2004, team members at West's sites have raised and donated more than $3 million dollars for a variety of charities around the world.
"We have a strong culture of giving back at West. Across all our sites, team members work together to support charities that have special meaning to them in their local communities. We are proud of how many of our team members support these important initiatives, and the impact we are making across the globe," shared Emily Denney, VP Global Communications and Corporate Philanthropy.
This year, our commitment to giving back was evident through the impressive 65,969 pounds of food that was collected in just two weeks during our fourth annual Global Food Drive. That's an impressive 9,000+ pounds more than we gathered last year to donate to local charities and food banks! To date, we've collected and distributed 191,693 pounds globally in our first four years.
The food gathered during this drive was donated to more than 40 charities and food banks around the world to fight hunger by helping those in need. Some recipients of our donations included:
St. Mary's Food Bank Alliance, United States
Singapore Children's Society, Singapore
The Salvation Army, United States
Eschweiler Tafel, Germany
Waterford Food Bank, Ireland
For more information about West and our culture of giving, please visit the Our Culture of Giving page on our website.
#WestByYourSide #WhyJoinWest
West without Borders is not affiliated with Doctors Without Borders®, which is a registered service mark of Bureau International de Médecins San Frontières.