Santina Zouras
Global Communications Intern
West Working by the Side of Interns to Provide Real-World Practical Experience
The West Ambassador Internship Program is a well-established summer intern program that traditionally runs for ten weeks from the end of May to the beginning of August. Interns are key contributors to our company and this fully paid internship program is instrumental in shaping future careers. We value the insight and fresh perspective our interns bring to the table. Each year, the goal of the program is to give real-world practical experience to college students that are near entry level employment, to give them an opportunity to work alongside industry experts. We work by the side of our interns to ensure they have the opportunity to learn, discover and apply new found knowledge within their fields.

This summer, the 2019 intern class consisted of 24 interns across the US, 16 of them residing at the global headquarters in Exton, Pennsylvania. The remaining eight interns were stationed at other West US locations in the offices of Tempe, Scottsdale and Phoenix, Arizona, as well as Kinston, North Carolina and Jersey Shore, Pennsylvania.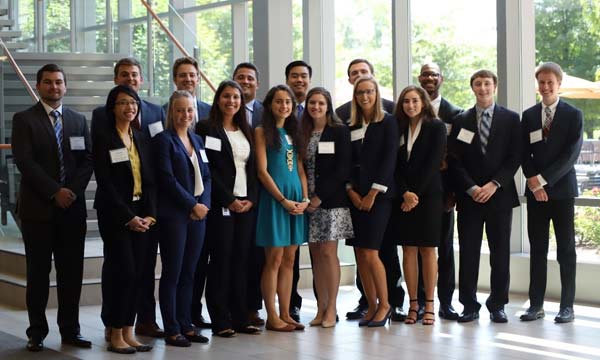 As the interns reflected on their experience at the end of the summer, it was clear that the group holds one key takeaway in common - exposure. The amount of exposure the interns received with team members in their departments as well as members of other teams, the Executive Leadership Team and West's President and CEO, Eric Green, certainly created a valuable interactive experience.
James Gaus, a scientific insights intern, stated, "I had the valuable opportunity to meet with many team members, and they've all been very kind and generous with offering advice about my future endeavors."
In addition to the everyday interactions that the interns had with team members throughout West, the Ambassador Internship Program offered a mentorship program, where each of the interns were assigned mentors in small groups. For many, the internship program served as a first-time experience in a corporate setting, and the mentorship program was aimed to give interns a resource to ask all their corporate "first-timer" questions.
Training and development and other workshops throughout the internship helped provide the interns with opportunities to refine their soft skills as they prepare to enter the workforce.
Two of the workshops that the interns participated in covered topics such as civility in the workplace and communication between different generations, which provided a valuable opportunity to learn and come together as a group. Additionally, the full day trip to one of West's manufacturing plants in Jersey Shore, Pennsylvania provided an interesting perspective into the operations and production side of business.
As intern Jeremy Baron noted, "the different events that the internship coordinator planned for us, from the informative workshops, to a full-day plant visit, had us expand past our departments and allowed us to see different parts of the company. This really helped put a lot of things in perspective."
Overall, West served as a meaningful experience to everyone both in terms of the connections that the interns were able to form, as well as the meaningful projects they were able to complete.
Ashley Djuhadi, an R&D intern who was given the opportunity to lay the ground framework for a new primary container system and was given full support to run with her ideas, said: "From learning about their innovation process, through design-thinking workshops, to rapid prototyping from sketches on paper, and to physical 3D models, I was fully immersed in the design process and integrated in my team." Ashley's remarks exemplify how West helped the interns bring the skills they have learned in the classroom to life.
At another location in Phoenix, Arizona, industrial engineering intern, Averie Scholz, learned about plastic injection molding in manufacturing. "I have had the opportunity to work in multiple manufacturing cleanrooms, running engineering studies, qualifications, and process development," Averie remarked. "I was excited to spend a large portion of my summer gathering data and running a real-life molding press study within a manufacturing plant."
As each of the interns exited the building for the last time this summer, they agreed that their time at West went by faster than they would have imagined. Between networking with team members in the office, participating in workshops or completing meaningful work on projects, time flies when you are learning, engaged and having fun.
Do you want to gain practical experience and have access to professional mentorship as you prepare to leave college and join the workforce? Click here to learn about how to apply for the 2020 West Ambassador Internship Program and help West to create value for our team members, our community, and for our customers and patients.
#WestByYourSide #WhyJoinWest