Katie Espenshade
Sr. Technical Account Manager, TCS, NA
Daikyo D Sigma® 1mL Long Pistons – Performance Excellence
West and its partner Daikyo have introduced a superior quality elastomeric piston the Daikyo D Sigma® 1mL long piston, substantially raising the standard for product acceptance. The D Sigma piston combines Daikyo best practices with a known formulation (D21-7H), Daikyo Flurotec® film, RB2 Coating, RSV® and RUV® processing with key innovation improvements of automated dimensional measurements, tight Acceptable Quality Levels (AQLs), particulate testing per ISO 8871-3, and enhanced vision inspection to achieve high levels of performance and consistency.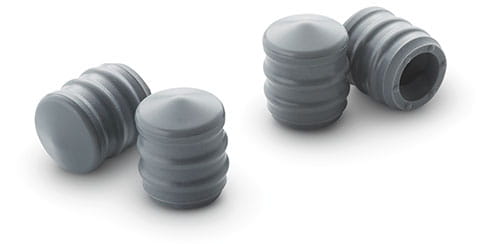 Automated measurements of critical to function dimensions and the application of tight AQLs for defects allows for lower variability, maximizing part-to-part consistency and reducing risk. The new Daikyo D Sigma 1mL long piston has been tested for performance with industry standard ISO glass syringes for container closure integrity (CCI) and breakloose and gliding forces to show this impact. These evaluations show that the piston can maintain CCI via pressure testing, stationary testing and vacuum decay testing in line with the USP <1207> guidance. Evaluation for breakloose and gliding forces also show performance suitable for use with industry standard ISO glass syringes for manual and auto-injector applications. Additional data for performance evaluations will be collected over time.
The D21-7H formulation is also supported with Theoretical Material Extractables and Material Characteristic testing. Daikyo's industry experience and innovation excellence has produced pistons that are designed to exceed expectations by combining the best of Daikyo materials, properties and inspection.
Learn more about the D Sigma component offering here or contact your Account Manager or Technical Account Specialist.
D Sigma®, Daikyo Flurotec®, RSV® and RUV® are registered trademarks of Daikyo Seiko, Ltd.