Jen Riter
Sr. Director, Lab Services
Combination Products: The Top Three Testing and Reporting Challenges
Combination products open up new vistas when it comes to delivering innovative therapies to patients in need, but teams bringing these products to the market face a number of significant hurdles. Recent surveys conducted by West at workshops held in PA and AZ revealed some of our customers' biggest challenges. This is the final of our three blogs focused on these challenges — and how West can help Simplify the Journey™ when it comes to developing a combination product.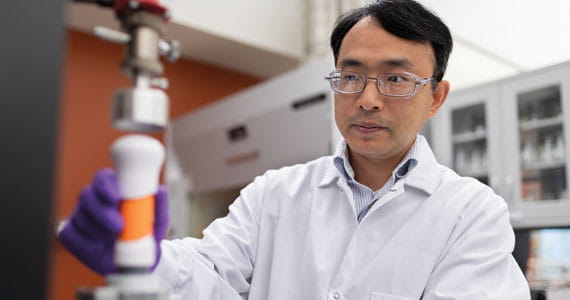 The emergence of novel biologic drugs and patient-friendly delivery methods, such as autoinjectors and wearable devices, are demanding early, close collaboration between drug delivery system manufacturers and their pharmaceutical and biopharmaceutical partners. These new therapies often require innovative device systems that enhance patient outcomes and are capable of delivering larger dosages over longer periods. Additionally, these combination products must be intuitive and easy to use.
West works collaboratively with our customers to help them navigate these new challenges and respond to the ever-changing regulatory landscape. At recent customer workshops, we asked attendees to identify their biggest barriers to success. Their responses fell into three distinct categories: regulatory challenges, device challenges, and testing/reporting challenges. In this blog, the final in a series, we focus on some of the complex testing requirements that device developers face when designing combination products.
Testing/Reporting Challenges
Successful testing of combination products can challenge even the most experienced development teams. Based on customer input, there are three common testing-related challenges:
Understanding ISO Requirements
There are nearly 23,000 standards published by the International Organization for Standardization (ISO), which means it's a daunting task to identify the most appropriate standards for a specific product. This is especially true with combination products.

The ISO 11040 standards govern medical equipment as a category; standard 11040.25, which provides guidance for syringes, needles and catheters, includes 73 standards alone, all of which, or some of which, may apply to your combination device. In addition, ISO 11608 specifies requirements and test methods for needle-based injection systems intended to be used with needles and with replaceable or non-replaceable containers. ISO 11608 is comprised of seven parts.

These standards and regulations are complex, stringent, and can be difficult to navigate. West helps customers identify which parts of the ISO standards are applicable for their product and then works with them to develop a testing roadmap to get the product to market.



Performance Testing
When developing a combination product, it's important to understand product performance and related product intent — the product must work reliably and consistently, and the patients must interact with it in a consistent manner to ensure safety and efficacy. Appropriate and accurate testing must address both the functional and physical requirements of the product, which can be a complicated, multistage process.

West has decades of experience conducting performance testing and can will work with you to address any questions and complications that may arise, drawing on West team members' expertise and in-depth knowledge. Our team can apply accepted testing standards combined with customized testing which may help accelerate regulatory submissions, reduce launch schedule risk and reduce risk to the patient.



Bridging Studies
Bridging studies are critical in both the development and delivery of new combination products. They ensure both the drug and the device's constituent parts are suitably evaluated in the finished combination product, which is essential for healthy outcomes once the device makes it into the hands of patients. These tests may include the bridging of data from containment that employ different components for the same drug or biologic, as well as the same system component across different drugs and biologics. This bridging study data is typically provided in addition to the foundational information included in an IND, BLA, or NDA. In concert, this range of data can help support the claim that the product is safe, effective and ready for patients. West can assist in designing and performing these bridging studies.
Simplify the Journey™
Understanding end product performance as it relates to patients, manufacturers, and regulators can be challenging; West's packaging and performance testing group is here to help. We work with our customers to develop combination drug-specific custom protocols. Our expertise in proper study design, current regulations, and results interpretation are just some of what we offer — and why our customers count on West to help Simplify the Journey™ at any stage of drug development.
Don't miss the other blogs in this series: The Top Three Regulatory Challenges for Combination Products and the Top Three Device Challenges for Combination Products.
Simplify the Journey™ is a trademark of West Pharmaceutical Services, Inc., in the United States and other jurisdictions.