Beth Crawford
Associate Specialist, Global Communications
West Publishes 2019 Corporate Responsibility Report
We are proud to announce that our 2019 Corporate Responsibility Report has been published and is now live on the West website. In its fourth year, West's 2019 Corporate Responsibility Report provides insight into West's initiatives in Environmental Sustainability, as well as five other impact pillars – Health and Safety; Quality; Compliance and Ethics; Diversity and Talent; and Philanthropy.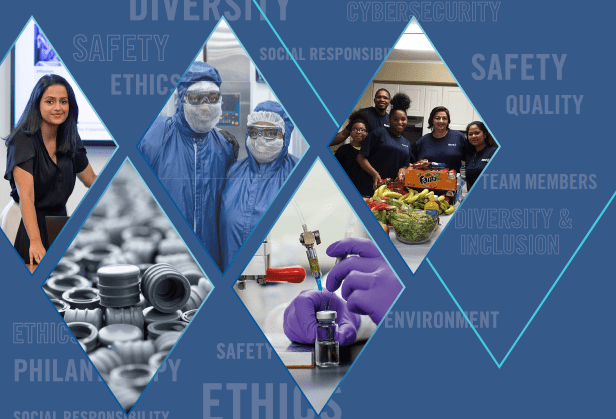 Corporate Responsibility (CR) has been part of West's DNA throughout our more than 95-year history. We are guided by our mission to contain and deliver injectable therapies to our customers and the patients we jointly serve across the globe. Delivering on this mission using sustainable business practices is critical and has been a long-standing imperative at West. We embrace this responsibility and strive to be good stewards in all our business decisions—from the raw materials we use, to our production and manufacturing techniques, to how we package and distribute our products.
After outperforming our prior five-year goal targets well ahead of schedule, in 2019 we established a new set of five-year goals, and we are proud of our progress. In 2019, we were recognized for the great strides we have made in our CR Program by several influential organizations, including Newsweek and Investor's Business Daily.
In 2019, our One West Team made impressive contributions to our CR Program, and helped us to reach these milestones:
West's Bodmin, UK site celebrated 5 years accident free
More than 35% of West's C-Suite comprised of women and/or minorities
Nearly $565K donated by West team members in 2019
More than 65K pounds of food collected by team members at our 2019 global food drive
98% of waste recycled at West's Contract Manufacturing sites in 2019
17.3% improvement in waste-to-landfill over the previous year, bringing our global waste diversion rate to 52%
Please read the full 2019 Corporate Responsibility Report here. In upcoming blogs, we will take a closer look at the six different focus areas of West's CR Program.