Beth Crawford
Associate Specialist, Global Communications
Bernard Birkett Recognized as 2020 CFO of the Year Award Winner by the Philadelphia Business Journal
We are excited to share that Bernard Birkett, Senior Vice President & Chief Financial Officer, has been recognized as a 2020 CFO of the Year Award Winner by the Philadelphia Business Journal.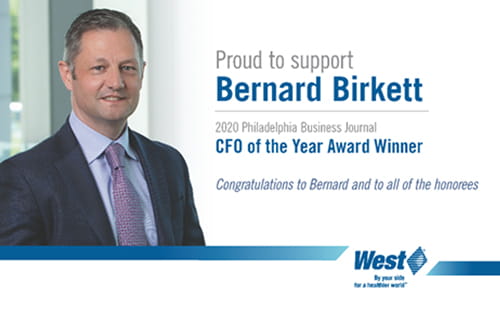 The CFO of the Year Awards honor CFOs in Greater Philadelphia who have shown outstanding performance in their role as corporate financial stewards. The nominees were evaluated by an independent panel of judges who examined their financial management, strategic thinking and overall contribution to their company's reputation.
Bernard received this award in recognition of his senior leadership ability and strategic thinking cultivated over more than 25 years in Finance and Corporate Accounting roles in the manufacturing and medical device industries. Since Bernard joined the West team nearly two years ago, he has worked tirelessly to greatly strengthen our financial position, which has resulted in West's stock price more than doubling (as of May 2020) and our recent addition to the S&P 500.
During his time at West, Bernard has inspired his teams to think innovatively and excel in an agile business environment. One of his proudest accomplishments was improving the diversity of his Finance leadership team, which helped to yield improved performance. Additionally, Bernard helped to drive West's initiative to donate $1 million to organizations that need our support during the COVID-19 pandemic, such as the American Red Cross and Philabundance.
"I am honored to be recognized among this group of distinguished financial leaders," said Bernard Birkett, Senior Vice President & Chief Financial Officer. "I am looking forward to continuing to make a difference at West, to better serve our team members, customers and patients."
Prior to joining West, Bernard served as the Chief Financial Officer and Treasurer for Merit Medical Systems, Inc., a leading manufacturer of disposable medical devices. Bernard is a Qualified Accountant with a business degree from the National University of Ireland Galway and a master's degree in banking and finance from Smurfit Business School Dublin. He has completed a program at Stanford's Graduate School of Business in Strategic Leadership for CFOs.
We want to wish Bernard a warm congratulations on this remarkable achievement. Bernard will be recognized at a virtual ceremony on July 30, 2020 and will be featured in a special section of the Philadelphia Business Journal. Please click here to read the full announcement from the Philadelphia Business Journal.