Marisa Leuzzi
Sr. Specialist, Corporate Communications
Feeding Hope and Fighting Food Insecurity
This past February, our team members around the world came together to help fight hunger in their local communities during our fifth annual global food drive. As the global community navigates the evolving challenges of the COVID-19 situation, having a stable food supply is even more important. We are proud of our team members for their incredible generosity. Their donations are needed now more than ever.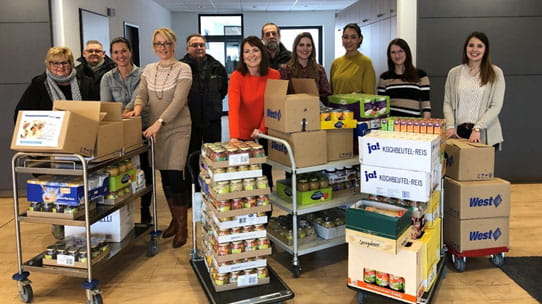 It's estimated that more than 840 million people around the world are experiencing hunger right now. Globally, charities and food banks are beginning to experience increased demand for life-sustaining supplies due to the COVID-19 situation. During our fifth annual global food drive, our West team members collected tens of thousands of pounds of food, which were donated to several charities and food banks around the world to fight hunger.*
Also, some team members took the opportunity to volunteer their time by sorting and packing donations. Our team members' acts of kindness in February will pay dividends for people around the globe who are facing the economic impact of the COVID-19 situation. Food pantries help to provide stability for families and individuals who are experiencing food insecurity. We applaud our team members for playing a small part in the global fight against hunger.
"Every year, we continue to be amazed at the efforts our sites around the globe put towards our annual food drive. This year, we are especially proud that our team members' efforts may benefit those facing economic uncertainty due to the COVID-19 situation. Nurturing a culture of philanthropy is one of the defining characteristics of our company and together, as One West Team, we can fight hunger and feed hope," said Laura Pitt, Manager, Community Affairs.
To learn more about our culture of giving, click here.
*Note: Due to the COVID-19 situation, several West locations will be holding their food drive at a later date.