Fran DeGrazio
Chief Scientific Officer, Scientific Affairs
PDA and West Sponsor Symposium on Combination Products
Do you want to better understand how to navigate the regulatory pathway to successfully bring a drug/device combination product (CP) to market? Understanding that many have this question, West, in collaboration with the Delaware Valley Chapter of PDA, sponsored the symposium (Sep 23): The Evolving Landscape for Combination Products – Defining a Regulatory Strategy. Experts from the industry and the FDA presented and discussed the latest best practices.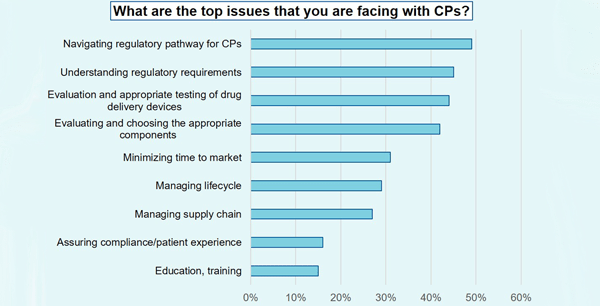 During the event, we surveyed more than 200 attendees. One of the questions was: What are the top issues that you are facing? The highest responses were:
navigating the regulatory pathway for combination products
understanding regulatory requirements
evaluation and appropriate testing of drug delivery devices
From the discussion, it was clear that appropriate testing programs which are risk-based and built to inform the combination product development process are key to assuring that a development program will satisfy global regulatory agencies. There are some key themes to remember when developing any drug device combination product. They are:
Starting with the end in mind. The development process should not be entered blindly; it must be patient-driven. This means having a good understanding of the patient, clinician, and therapeutic needs for the specific application.
Merging aspects of Design Controls (DC) with Quality by Design (QbD).
Building line of sight data packages to support development through regulatory approval and lifecycle management.
Creating two-way communication channels with transparency throughout the supply chain.
Over 29% of the attendees reported struggling with lifecycle management. To provide greater support and insight, West is sponsoring a free webinar (Dec 3, 11:00 AM, EST): ICH Q12 Pharmaceutical Product Lifecycle Management and the Relevance to Combination Products. An overview and specific examples will be discussed.