Amee Olson
VP, HR, Talent Management
Corporate Responsibility Report 2019 Series, Part 4: Diversity and Inclusion
At West, we actively foster an inclusive and collaborative culture for our team members where different views and perspectives are welcomed and valued. We are convinced that this approach brings forth innovation, learning and growth for our team members on a global basis.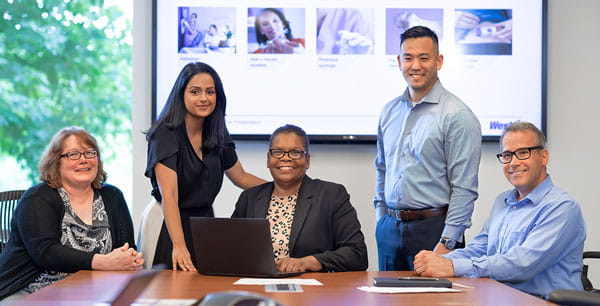 A Commitment to Diversity
Over the past several years, West has made great strides in including team members from diverse backgrounds in leadership roles across the organization. Today, West's Board of Directors is comprised of over 25% women. Additionally, four out of the eleven members of West's Executive Leadership Team (over 35%) are women and/or U.S. minorities. Meanwhile, the population of senior leaders who are U.S. minorities has grown by more than 10% since 2017.
We are committed to recruiting and retaining diverse team members at all levels of the organization who can share their varied perspectives on the most complex challenges facing us as we work towards a healthier world. Today, 45% of our U.S. workforce comes from minority backgrounds, compared to 37% in 2017. Also, 37% of our global team members are female. While we are proud of the progress we have made in minority and female representation, we recognize that there is still room for improvement and are working on a number of initiatives in this area.
Engaging Team Members on Diversity
What makes us different makes us better. Our One West Team is a passionate, diverse group of individuals who bring immeasurably valuable experiences to our workplace. To help retain our talented team members, we are committed to embedding diversity and inclusion goals into our business activities.
Some of these programs include the onboarding of new team members, management training, succession planning, affirmative action plans, recruitment materials and global mentoring.
In 2019, West administered a Self-ID campaign, providing team members an avenue to confidentially share their diversity data, enabling us to better understand the diversity of our workforce so that we can continue to implement strategies, programs (such as our Employee Business Resource Groups), and other initiatives that best support our culture of diversity.
West team members have the opportunity to join Employee Business Resource Groups (EBRGs) that spark connections across our global sites and cultivate career growth. In 2019, we expanded our EBRG structure to include two new EBRGs—Multinational Organization Supporting an Inclusive Culture (MOSAIC), dedicated to embracing multiculturism and intersectionality of all team members, and Veterans & Allies Leading for Organizational Results (VALOR), focused on helping veterans achieve their full potential at West. In addition, our Women's Initiatives Network (WIN) EBRG has continued to expand and develop leadership opportunities for both women and men at West, with active chapters in the United States, Brazil, Singapore, Germany, France and Ireland.
Recruiting and Retaining Talent
Our focus on talent acquisition, performance management, resource planning and leadership assessment are strongly aligned with our diversity and inclusion strategies. We understand that diversity leads to greater innovation, more opportunities, better access to talent and stronger business performance. Additionally, we are continuously striving to provide a more flexible work environment to help retain our global team members as they build and support their families, including expanded parental leave, transitional leave and alternate work arrangements, an initiative that has paid dividends as we recently instituted a work from home policy in connection with the COVID-19 pandemic.
Our recruiting strategy focuses on diversity, with success measures in place to ensure we are attracting and hiring diverse talent to drive business success. In 2019, almost 40% of all hires within the U.S. came from a minority background.
Learning and Development
At West, we strongly encourage our team members to engage in continuous learning, and we provide development opportunities and build talent from within. We are proud to offer resources like our online Learning Management System, in-person and virtual trainings and tuition reimbursement to our team members. In 2019, several initiatives were implemented to support development of our One West Team:
Extended access to West's online performance management process for all production employees
Increased virtual classroom offerings
Continued our global manager training program with its second edition
Our learning and development programs include continued diversity education, with 2019 global trainings focused on Recognizing, Preventing and Reporting Harassment, Discrimination and Retaliation, as well as Promoting Mutual Respect.
Click here to view the full 2019 Corporate Responsibility Report.