Eecho Wang
Specialist, Communications, Asia Pacific
West Korea Team Hosts Successful First Food Drive Event
As part of our West without Borders team member led giving program, West's Korea team recently kicked off their first Food Drive event in Anseong, Gyeonggi in South Korea. All 15 West team members participated and collected over 170 kg (385 lbs) of food items for ten local families that have been impacted by the COVID-19 pandemic.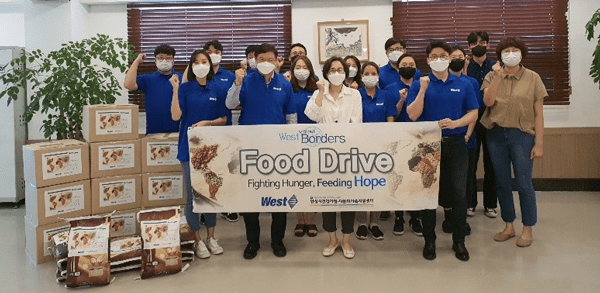 Since the outbreak of the pandemic, some families within this community in Korea have struggled financially, creating even more challenges to overcome. Having an awareness of this need in their community, our Korea team took the initiative to come together as One West Team to support them.
Claire Kim, Finance Specialist, led the Food Drive effort amongst our team members and partnered with the Anseong Healthy Family and Multicultural Family Support Center, an organization that supports multicultural families. They helped identify ten families that were in most need of support, and prepared food packages weighing approximately 10 kg (about 22 lbs) and consisting of packets of rice and seven other types of dried food items and personally delivered the donated packages to each of these families.
Having just joined the West Family in April 2019, this is the first time our Korean team took part in the annual Food Drive. Despite being a small team, the generosity shown and efforts taken by the Korean team for their community during such difficult times is a great example of our commitment to make a positive impact through the strongly embedded culture of giving at West.
Congratulations and Thank You to the team in Korea for their first successful Food Drive event!
To learn more about our culture of giving, click here.
West without Borders is not affiliated with Doctors Without Borders®, which is a registered service mark of Bureau International de Médecins San Frontières.