Laura Pitt
Manager, Community Affairs
Halting Hunger as One West Team
From all corners of the globe, our team members banded together to uplift their local communities during our Sixth Annual Global Food Drive. The COVID pandemic has contributed to a severe increase in global food insecurity, due to loss of incomes, disruptions in food supply chains, and other factors resulting from COVID. Our communities are in acute need of our help more than ever.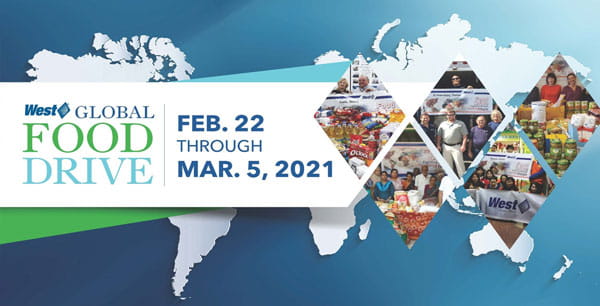 In this year of many firsts, West without Borders held its annual Food Drive as a fully virtual campaign for the very first time, from February 22 – March 5. The new format did not dampen our team members' efforts – all our sites rose to the occasion!
We are very pleased to report that our global team members raised $48,000 for food banks in their local communities during the Food Drive. The Herman O. West Foundation matched these generous donations by 100%, which brought our total Food Drive donation amount to $96,000! In addition, West has pledged to donate over $450,000 to food banks that serve our team members' communities around the world.
As always, we are humbled by our team members' outstanding generosity during our Food Drive. Despite continuing to deal with the COVID pandemic, they have shown incredible kindness for their neighbors who are less fortunate. Our team members' enthusiasm for giving back to their communities breathes meaning into our One West Team value. We fully support their passion for philanthropy by providing several opportunities to give back throughout the year.
The food gathered during this drive was donated to more than 25 charities and food banks around the world to help fight food insecurity. Some recipients included:
Taiwan People's Food Bank Association
India FoodBanking Network
Horsens Krisecenter
St. Austell Foodbank
Community Action Partnership of Mid-Nebraska
Central Pennsylvania Food Bank
To learn more about our culture of giving, click here.
West without Borders is not affiliated with Doctors Without Borders®, which is a registered service mark of Bureau International de Médecins San Frontières.