Kayla Sutter
Specialist, Global Communciations
Volunteer Spotlight: Canine Partners for Life
Recently, two Exton team members, Lindsay Reinhold, Manager – Projects and Planning, and Jenny Garten, Project Analyst, were homes to two CPL puppies over the last year.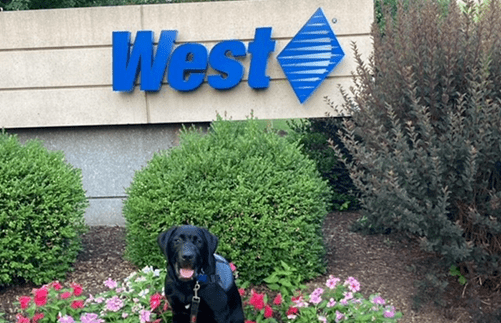 In January, Jenny took in a black labradoodle named Necco and served as a temporary puppy home until Necco went to a prison, where inmates will be paired with the puppy to assist in further training. At the end of February, Jenny took in Braver, a black lab from Boston, who was about 10 weeks old, and "an old soul in a baby pup's body." Braver stayed with Jenny until he went to a prison on July 2.
"I wanted to be a puppy raiser since high school. I thought it was the coolest thing, but as a scientist I didn't think it was something that I could do since I work in the lab. But because West is such a big sponsor of CPL and I decided it was a good time to raise a puppy through volunteering with CPL."
"The hardest part of raising a puppy to become a service dog was the people in public not understanding, so I definitely learned a lot and made sure to educate people. These dogs are a way for people to live a mostly normal life and they can also be the difference of life and death for someone. So being able to be an advocate and an educator really made the experience so much better," said Jenny.
In April, Lindsay took in Tribute, a black lab from Minneapolis. Tribute is set to go to a prison on August 9. "Everyone always asks 'how can you let him go?' Of course, I'm going to miss him, but you have to remember the end goal, and that you are doing this to help somebody that needs that assistance… I signed up for this and I knew this was the end. It's about helping someone else have a better quality of life," Lindsay explained.
The responsibilities of a being puppy home and trainer are huge. For over six months, the trainer teaches basic commands such as sit, down, settle, positional commands such as heel and side, and works on potty and crate training. The trainer is responsible for vet care and grooming as well. Trainers also bring the dogs everywhere to properly socialize in different public environments. After the home training, the dogs then go to a prison and are partnered with two inmates who further train the dogs for another year. Then, the dogs return to CPL for more specialized training, preparing them for the individual they will service. Once they complete training, they are partnered with an individual who will benefit greatly from their care.
To learn more about our Culture of Giving, please click here. To learn more about CPL and how you can volunteer, visit https://k94life.org