Eecho Wang
Specialist, Communications, Asia Pacific
West Honored at the Korea Bioprocessing Excellence Awards 2021
We are delighted to share that West has been honored at the Korea Bioprocessing Excellence Awards (KBEA) for the second year in a row. This year, we were recognized as the grand winner of the Best Bioprocessing Supplier Award: Fill-Finish.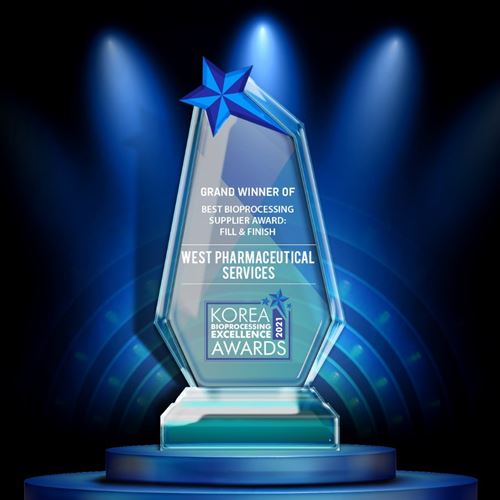 As one of the industry events in the field of bioprocessing, KBEA aims to recognize organizations within Korea that have engaged in substantial efforts to innovate, optimize processes and uphold a high level of efficacy, quality, and safety in biological products manufacturing. With great performance and reputation on quality, science and service, West stood out among 5 nominees for the Best Bioprocessing Supplier Award: Fill-Finish. In addition, our significant role in helping to combat COVID-19 further established our commitment to the healthcare industry and patients all over the world, leading us to be well-recognized among the judges.
The award ceremony was held in association with the 10th Biologics Manufacturing Korea Virtual Conference on June 23-24, 2021. Kwon DongOh, Managing Director of Korea, attended the ceremony and accepted the award on behalf of West. Kwon said: "It's an honor to receive the award and we'll keep working by the side of customers to ensure the safe, effective containment and delivery of life-saving and life-enhancing medicines for patients".
Congratulations to the entire team on this well-deserved award! Click here for more information if you are interested in how West partners with customers to align drug packaging, containment and delivery products with services, solutions, and support.