Eecho Wang
Specialist, Global Communications
West China Initiated "Innovation Day," Expanding Collaboration with Customers
At West, one of our core values is passion for customers. Their success is ultimately our success. Understanding our customers' unique challenges and focus areas, ultimately helps us to better provide solutions for their needs. Recently, the West China Commercial Team visited one of our major local customers, Wuxi Biologics, and hosted its first large-scale on-site customer event, "Innovation Day." As one of our major local customers, Wuxi Biologics is a leading company in China's prosperous biopharmaceutical industry. The event drew over 140 participants and expanded our strategic collaboration, which will help us further support Wuxi Biologics with their specific drug development needs.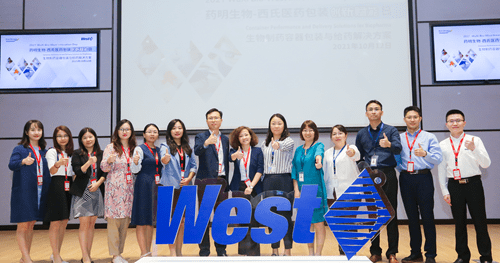 With the release of the "Outline of the Healthy China 2030 Plan", there are increasing development opportunities in the healthcare industry across China, especially in the area of biomedicine and life health. Research firms expect that the mainland biotech market will be worth US$96 billion by 2023 (from US$40 billion in 2018)1.
Stricter regulations and higher requirements go hand in hand with the thriving market. Pharmaceutical and biotechnology companies are facing challenges in terms of safety, efficacy, and effectiveness during the entire drug life cycle. As a trusted partner to established and emerging drug developers, West helps our customers to manage these ever-changing market needs and demands through consistent delivery of innovative solutions and services.
The agenda for the "Innovation Day" customer event, included high-level vision sharing and keynote speeches customized for the needs of Wuxi Biologics, as well as a key products exhibition. The event was focused on exchanging knowledge and experience and was warmly welcomed by the Wuxi Biologics team.
Zhang Jingwei, Vice President of Global Strategic Operation, Wuxi Biologics commented: "West has always been a trusted partner of WuXi Biologics. The event was very successful, and many of our colleagues have benefited a lot. I hope we can further strengthen strategic cooperation with West on product and service innovation, to meet our growing needs with newer technology, higher quality, faster speed, and more flexible services in the future."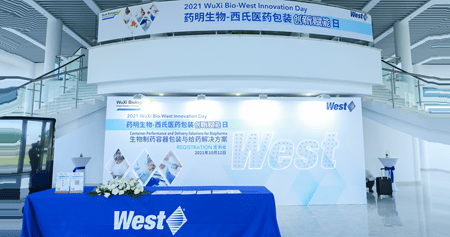 "We are pleased to bring West's almost 100 years of experience and reputation on innovative and high-quality injectable solutions and services to Wuxi Biologics. We will continue to stand by the side of our customers to improve health for patients in China and worldwide." said Philip Wang, General Manager, West China.
"It was really a fruitful event that not only helped us better understand customer needs, but also further established West's leadership on solutions and technology," said Philip Wang, General Manager, China, "I'd like to express my gratitude to every team member involved for living the values on Passion for Customers, Leadership in Quality and One West Team!"
Click here to learn more about West and be sure to follow us on WeChat by searching "WestPharmaceutical" for our latest updates.
1 From Innovation to Revolution: Chinese Biotech Industry, March 2020,https://www.am.miraeasset.com.hk/insight/innovation-revolution-chinese-biotech/