Gillian Power
Specialist, Global Communications
Waterford Welcomes a Very Special New Team Member
Our team in Waterford, Ireland recently welcomed its newest "team member." In partnership with BUMBLEance, the team is excited to launch the new children's regional ambulance service, BUMBLEance #15, which will operate and service children from the Southeast Region of Ireland. The new vehicle will be permanently based in Waterford's car park.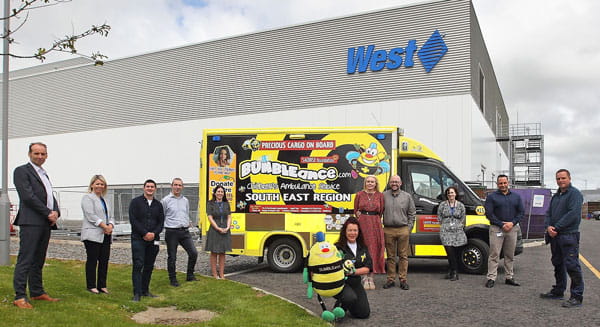 BUMBLEance #15 has been dedicated to Emma Lannigan from the Southeast Region, who unfortunately gained her angel wings in 2012. A very special picture of Emma is included on the vehicle.
Her mother, Anitha, said, "In 2016 we came across BUMBLEance and immediately this charity became very close to our hearts. As parents of a very sick and terminally ill child, we understand the struggle that parents have while trying to commute to appointments. We are both overwhelmed and truly honored to have Emma as Queen Bee on the Southeast Region's BUMBLEance."
Brendan Fitzpatrick, Site Director at West commented, "The team here at West are delighted to support BUMBLEance by offering them a parking space for their new vehicle. In addition, we are looking forward to kicking off this year's West without Borders campaign, with all funds raised going to BUMBLEance, to help the families of sick children in the Southeast Region have a safe and smooth journey for their much-needed medical treatment."
BUMBLEance founders, Tony and Mary Heffernan, are delighted to have the Southeast Region BUMBLEance up and running, after opening the service during the COVID pandemic in 2020. Tony explains, "The team at West have been an exceptional help in getting #15 on the road and have kindly allowed the use of their facilities to house the BUMBLEance when it is not servicing King and Queen Bees. With the help of funding and the service that West has offered, BUMBLEance has cemented their footprint in this region."Thank you to the team in Waterford for their creativity and passion, working as One West team in support of such a wonderful charity.
If you would like to make a donation to BUMBLEance, please click here.
West without Borders is not affiliated with Doctors Without Borders®, which is a registered service mark of Bureau International de Médecins San Frontières.