Caitlin Joran
Specialist, Global Communications
West By Your Side for Collaboration: Providing Insight on Practical Strategies to Reduce Risk for Drug-Device Combination Products
Earlier this year, we held a free 3-day virtual workshop (4 hours per day) bringing together industry experts and thought leaders in a unique forum to address a series of challenges and practical strategies to de-risk their injectable combination product development and commercialization.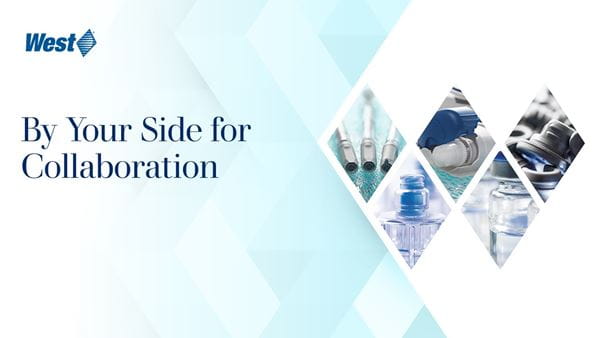 "Combination Products are a targeted area for education and understanding because of the complex global regulatory and technical issues involved," explained Chief Scientific Officer, Fran DeGrazio. "We want to be at the center of these challenges in order to Simplify the Journey™ for our customers and de-risk their ability to develop these products."
We took a look at some emerging industry trends, specifically, the increasing number of drugs that are in the pipeline requiring combination products, and the advent of more complex drug delivery devices, including those for self-administration. There are more biologics and more therapies and with that comes the need for lifecycle management processes. All of these changing trends combined with the industry drive to improve patient compliance and adherence and contain the total cost of care indicate that this shift towards the use of combination products is here to stay. All of these trends and identifiers brought the need to address these challenges, issues and concerns through collaboration with other industry experts in this three-day workshop. Each day focused on a different theme to cover various aspects of Combination Products.
Day 1: "The New Landscape: Changing Regulatory and Patient Needs"
West's Diane Paskiet walked through a timeline of regulatory changes and their increased complexity setting the stage for the workshop and the need to use science and risk-based assessments.
Amgen's Susan Neadle provided the audience with a shared glossary. It was not just a dictionary, but a source for terminology. And then using that framework, she discussed what risk is, its connection to the product lifecycle and the role control strategies play in managing that risk.
West's Atul Patel presented on the topic of developability - how to assess it, how to approach device feasibility and how ultimately to select a device through those efforts.
West's Allison Radwick ended day 1 with a pharmacist's perspective on the unique issues in clinical evaluation of combination products and how to ensure desired therapeutic outcome.
Day 2: "Technical Strategy: Development Considerations for Combination Products"
West's Binita Bhattacharya kicked off day 2 with a deep dive into human factors, how to ensure usability with a human centered approach and the criticality of robust user testing.
West's Fran DeGrazio provided insight on the criticality of a risk-based approach, highlighting a wide range of considerations, including compatibility between a drug product and the patient. As part of her presentation, she provided a toolbox to help identify and manage risk.
West's Jennifer Riter discussed the myriad of analytical testing considerations for a variety of combination products, delivery systems and techniques.
West's Daniel Bantz ended the day by providing a great overview of functional suitability testing, and how it is inextricably linked to risk management through risk discovery.
Day 3: "Sustaining Success: Effective Planning and Lifecycle Management for Combination Products"
Amgen's Khaudeja Bano gave an industry perspective on Post Marketing Safety Reporting readiness, reviewing the requirements and the need for cross functional collaboration and culture change to succeed.
West's Fran DeGrazio presented on the topic of purchasing controls and emphasized the key role of cGMPs and their applicability to products, components and services. She also shared some great case study examples to give insight into managing risks that can occur in partnership with suppliers.
Amgen's Megan Doyle really unpacked the concept of platform devices and shared an approach to platform reviews, submission, content and leveraging strategies.
NSF Medical Devices' Kim Trautman ended the day with expert views on quality management systems and requirements in relation to combination products.
"Bringing industry experts together for 3 days to discuss various aspects of combination products from early development to post market surveillance and learn best practices and approaches was outstanding. There is always something new in this area as it is ever changing," explained Jennifer Riter, Sr. Director, Business & Technology Operations.
We work hard to be by your side for collaboration by identifying specific industry needs and challenges and providing our expertise and support where we can. For more information on how we can help from molecule all the way through commercialization in product development, take a look at the Analytical Services section of our website. If you are interested in watching the full recording of the 3-day workshop, please click here. All presentations can be accessed through the West Knowledge Center.
West and the diamond logo and Simplify the Journey are trademarks and registered trademarks of West Pharmaceutical Services, Inc., in the United States and other jurisdictions.