Beth Crawford
Associate Specialist, Global Communications
West Participates in Girls Exploring Tomorrow's Technology (GETT) Video Series
West had the opportunity to participate in a Girls Exploring Tomorrow's Technology (GETT) educational video series in February. GETT began in Chester County, PA in 2001 in response to the under-representation of young women in Science, Technology, Engineering and Math (STEM) fields. GETT is an initiative of the Innovative Technology Action Group (ITAG), a program under the Chester County Economic Development Council, driven by the volunteer efforts of local organizations.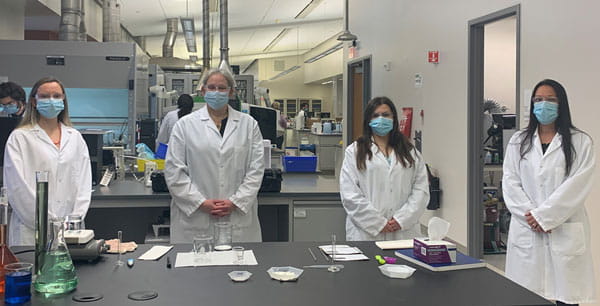 Each year, GETT hosts an event for girls in grades 5-10 and their parents to learn about career opportunities in STEM-related industries. This year, the event has been transformed into a 20th anniversary weekly video series, which began in November. West is proud to support GETT as a Premier Sponsor.
On February 25, West hosted a live session as part of GETT's video series – The Chemistry of Rubber. Please click here to watch. The session began with a series of pre-recorded videos from some of West's female scientific leaders. They shared their inspiring stories of their journeys that brought them to where they are today, discussing their educational backgrounds and life-changing career pivots. Thank you to our leaders who participated (in order of appearance): Fran DeGrazio, Chief Scientific Officer, Scientific Affairs; Jennifer Riter, Sr. Director, Business and Technical Operations, Services and Solutions, Laboratory; Cindy Reiss-Clark, Sr. VP, Global Market Units and Commercial Solutions; and Aileen Ruff, VP & GM, Services and Solutions, Marketing.
The next live segment brought students and parents virtually to our Analytical Laboratory in Exton, PA. An all-female group of team members led viewers through a fun experiment to create bouncy balls! While West doesn't manufacture bouncy balls, the team described that the process involves similar chemistry used for producing West rubber components. To follow along with the experiment at home, please click here. You can find the ingredient list here.
After the experiment, our team hosted a Q&A segment that addressed STEM careers available at West, the value of internships, the Analytical Laboratory and more. Click here to watch the Q&A. We encourage you to share this video with young people who are interested in STEM careers. GETT's video series will continue for several months. If you're interested in following along, click here to register to receive a weekly link to the free video series.
"Experiencing different types of STEM careers early in your academic career can help you learn and excel in areas that are of interest to you. These experiences can help drive your success early by steering you toward a focus area. It can also provide you with insight on areas which may not be the best fit for you, which is just as important," said Mina Albanese, Director, Analytical Lab, Laboratory.
This exciting event would not have been possible without the help of our team members who led the experiment and conducted the Q&A (from left to right above): Olga Laskina, Sr. Technical Account Specialist, TCS, NA; Katie Reeve, Supervisor, Particle, Laboratory; Baktisha Alla, Scientist, Laboratory; Mina Albanese.
Please click here to watch The Chemistry of Rubber, a live session hosted by West as part of GETT's 20th anniversary weekly video series.