Marisa Leuzzi
Sr. Specialist, Global Communications
Team Member Spotlight: Alyssa Hoke, Process Engineer, Global Engineering (Jersey Shore, PA)
At West, we are by the side of our team members - supporting your training and development needs, providing opportunities to advance in your career and reach your full potential, while maintaining your well-being and work-life balance. In our Team Member Spotlight, learn more about what it is like to work at West and hear about the experiences and careers of some of our team members around the world.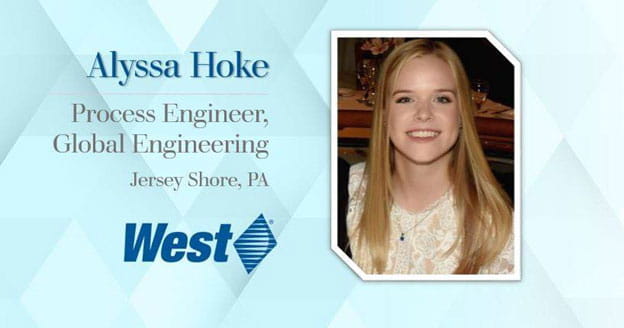 What are some of the exciting things you get to do in your role as an engineer at West?
As a global process engineer, I have the opportunity to participate in and execute projects that impact my local site as well as all elastomer sites in the West network. This has included equipment and item validations, new technology for process improvements, and a focus on reducing cost of poor quality. An exciting highlight has been spending some time in the Waterford facility to support implementation and startup of new Envision™ vision inspection items.
Is there a specific project or initiative you worked on at West that stands out to you?
I am currently working on the validation of a brand new Envision™ inspection machine for the Jersey Shore site to support capacity expansion efforts related to COVID-19 demand. This marks an exciting step for our Envision™ inspection process at Jersey Shore as the first new technology to be brought onsite for faster throughput and higher yields.
What does 'By Your Side for a Healthier World™' mean to you?
'By Your Side for a Healthier World™' means always remembering that every stopper has a name. This is especially true and meaningful in the fight against COVID-19 as family and friends begin receiving vaccines packaged with a West stopper. It is a very rewarding experience to know the work I do every day is impacting people I know.
What do you like most about your role and working at West?
I love that I get to work on a variety of different projects spanning the entire West network, with each project presenting its own unique set of challenges. It fosters a collaborative culture between the sites, aligned with a common goal of making our products and processes better.
How has West helped you excel in your career as an engineer?
West is very invested in encouraging growth. They have a great program for Lean Six Sigma. I was able to get certified as a Lean Six Sigma Green Belt this past year and am working towards a Black Belt certification.
Do you have any advice for future engineers?
My advice for future engineers is to be confident, ask as many questions as you can, and never stop learning!
To learn more about Careers at West, please visit our careers site here.