Gillian Power
Specialist, Global Communications
West Celebrates 40 years of successful operations in Kovin, Serbia
West celebrated 40 years of successful operations in Kovin, Serbia during the month of October 2021. The West Kovin manufacturing facility specializes in the manufacturing of stoppers and plungers for disposable syringes.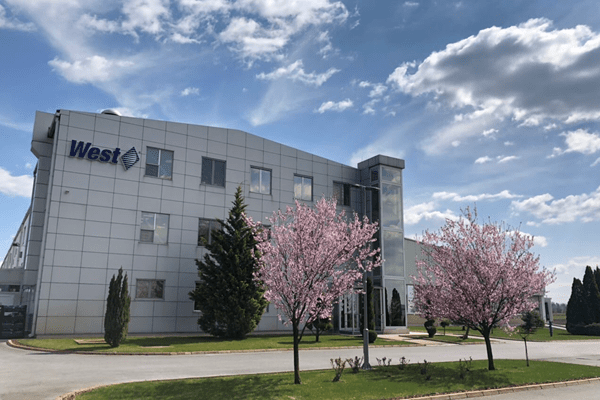 Our history in Serbia dates back to humble beginnings in 1981, starting out as a joint venture between a German company called Pharma-Gummi and a local pharmaceutical company, Galenika Holding. Up until 1992, Kovin was a small but successful facility. A long-term, phased expansion program was launched in 2004, which increased the plant's capacity to meet the increased market demand in Russia and Eastern Europe. Today, the Kovin facility is approximately 8,400 square meters and has grown to 380 team members, operating 24/7 schedules.
Over the past 18 months, the team has increased by over 60 people in response to a big surge in customer demand as a result of the COVID-19 pandemic. West is supplying millions of rubber vial stoppers to over a dozen global customers that will be used to package over a billion COVID-19 vaccine doses in multi-dose vials as part of the COVID-19 vaccine program in 2021.
Milan Andjelkovic, Director of Operations, Kovin commented: "West is delighted to be celebrating our 40-year anniversary here in Kovin this month and I would like to thank each and every member of our team for the tremendous work they do every day to deliver high quality components and service to our customers that ultimately improve patient lives all over the world."Through these challenging times, vaccine developers have trusted West as a partner of choice to help protect their sensitive biomolecules. This is a testament to West's almost 100 years of global experience and reputation for leadership in quality. In addition, West is also supplying primary packaging components for therapeutics used to treat COVID-19, as well as critical components that are included in some of the diagnostic kit products that are being used to detect COVID-19.
Andjelkovic added: "We are part of a European network of West manufacturing sites, and we are working closely with our colleagues in Germany, France and Ireland to balance production at a European level in order to ensure we can offer the best possible response to our customers. Our team continues to grow, and we look forward to many more successful years here in Kovin."
Throughout our history, our leadership has fostered a culture of giving through the company's team members around the world. West's team members take on the responsibility to give back and as a result, donate considerable time and resources to help create a healthier world in keeping with its mission as an organization. 'West without Borders' is a key platform of the company's corporate responsibility program, which is an employee-led initiative. Since 2010, the Kovin team has raised over €10,000 supporting Red Cross, Kovin; Kindergarten "Nasa Radost" Kovin.Since 2012, West participated in Serbia's biggest humanitarian effort, known as the Battle for Babies, donating necessary medical equipment to maternity wards in local general hospitals and the Medical Institute for Children valued at over €55,000. In 2020, West donated protective gear for frontline health workers from General Hospitals and Health Centers in Kovin and for volunteers of Red Cross helping them fight the COVID-19 pandemic.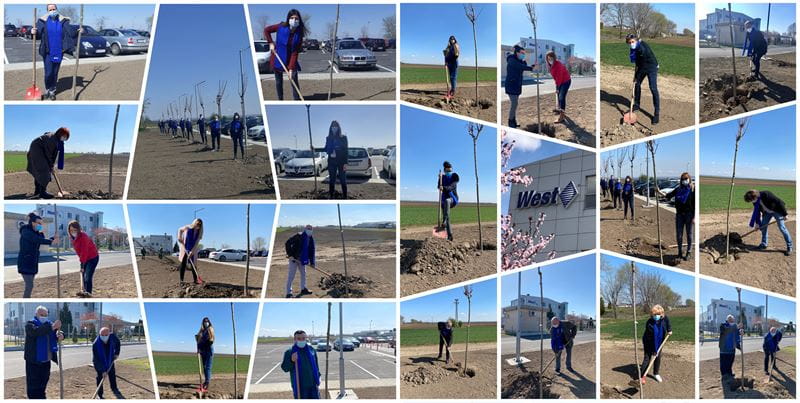 West's greatest asset is its people, and the site holds an 'Investors in People' gold level accreditation. Among the current team, an impressive 120 members have been part of the West family for more than 10 years, with two team members starting with the company from the very beginning - 40 years ago.Djura Krstic, Production Coordinator, with 40 years of experience in this position shared some insights: "I've worked here at West for 40 years. West is my second home, and it has always been a place with good working conditions. West has always offered stability to us employees, which is also present today. This support is at the core of our "One West Team" value, and this is the value our people appreciate the most. From my experience, the thing I would recommend to our younger generations is that they make constant improvements and keep working on themselves."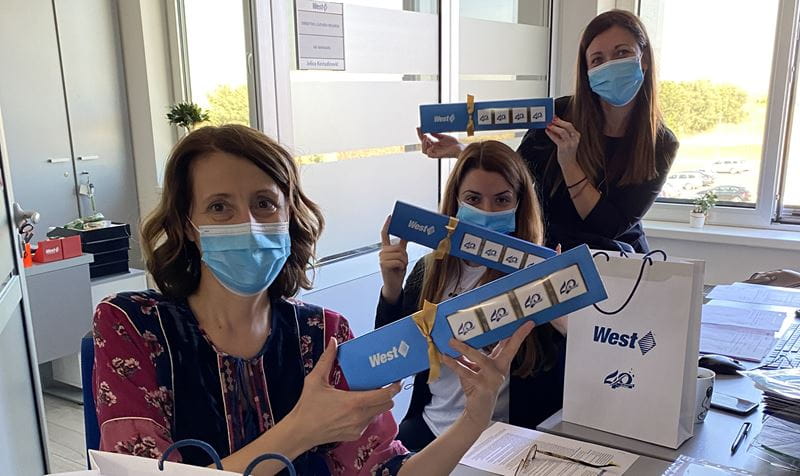 West is internationally recognized for its excellence in the manufacturing of pharmaceutical packaging and medical devices. It is a leading manufacturer of delivery systems for injectable drugs and healthcare products. Visit our careers page to learn how you can join West and help us to create value for our customers and patients, our community, and our team members.
West without Borders is not affiliated with Doctors Without Borders®, which is a registered service mark of Bureau International de Médecins San Frontières.