Alex Lyness
Sr. Manager, Research & Technology
West Partners with University of Washington to Develop a Prototype Wearable Injector That Can Detect and Reverse an Opioid Overdose
West has recently collaborated with a research team at the University of Washington (UW) led by Professor Shyam Gollakota to develop a wearable device to detect and reverse an opioid overdose.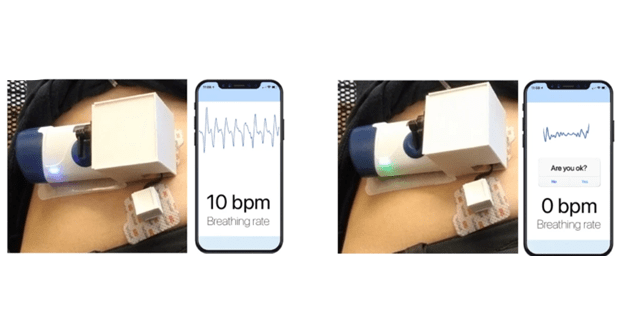 According to a report issued by the US Centers for Disease Control and Prevention earlier this summer, drug overdose deaths rose by 30% in 2020, hitting the highest number ever recorded. West is pleased to lend our expertise to drive innovative solutions to help address this growing issue1. The prototype system can sense when a person stops breathing and moving, and then uses West's proprietary SmartDose® technology to inject naloxone, a lifesaving antidote that can reverse an overdose and save a patient's life.
Figure: Showing the prototype wearable injector before injection (left) whilst a participant is breathing normally and during injection (right). Once a participant simulated an apnea event, comparable to an opioid overdose, the device automatically injects naloxone.
Dr. Alex Lyness, Sr. Manager, Research and Technology at West worked to integrate West's drug delivery expertise and the UW team's propriety sensors and algorithms that can detect the life-threatening pattern of respirations that occur when people experience opioid toxicity. The ensuing prototype includes a pair of accelerometers that measure respiration and an onboard processor that detects the halt of motion. The device can transmit data about breathing rates and apneic motion to a nearby smartphone via wireless connectivity.
To test the device, a clinical study was conducted by UW with 25 volunteers in a supervised injection facility in Vancouver, B.C., and a parallel clinical trial was conducted in a hospital environment among volunteers who manifested signs of apnea by holding their breath. The sensors were able to accurately track respiration rates among people with opioid-use disorder. Further, the device was able to detect non-medical, opioid-induced apnea, a breathing pattern that commonly precedes a potentially fatal overdose.
In a second study conducted by UW, 20 participants simulated overdose events in a hospital setting by breathing normally, then performing a breath hold for 15 seconds to mimic an apneic event. When the prototype system the team had developed detected that the subject had not moved for at least 15 seconds, the wearable device activated and automatically injected naloxone into the participant successfully.
"We have enjoyed working with Professor Gollakota and his research team at UW and bringing together this expertise in cutting-edge biosensing and wearable drug delivery technologies. This research project was unique to the company and involved collaboration across West including support from R&D, Legal, IP, Risk, Quality, Regulatory and Operations. We are thankful to all colleagues that made this possible." said Alex Lyness.
"The protoype system has provided proof of concept of a closed loop emergency delivery for the event of an opioid overdose. We are excited this work has now been published in a peer-review paper, a first for our growing biosensors research program. Ultimately, we are very pleased to be able to contribute to a project and prototype that is intent on solving such a significant unmet medical need."
The peer-reviewed research article that details the project above can be seen on the Nature Scientific Reports website, at the time of reporting this article has been accessed and read over 3,000 times.
This study is a prototype system only, any wearable drug delivery device would require approval from the U.S. Food and Drug Administration.
SmartDose® is a registered trademark of West Pharma. Services IL, Ltd., a subsidiary of West Pharmaceutical Services, Inc.
Sources:
1. U.S. Drug-Overdose Deaths Soared Nearly 30% in 2020, Driven by Synthetic Opioids, Wall Street Journal, July 14 2021