Amy Kim
Sr. Specialist, Market Development
How Polymer Syringes Help to Address Challenges with Glass Syringes when Packaging Modern Molecules
In an effort to treat more complex diseases, the injectables market has seen high-value molecules dominate clinical pipelines. As modern molecules continue to gain market share, it is becoming the norm for drug manufacturers to plan containment system compatibility earlier in their drug development process due to the sensitivities of their complex molecules. With packaging systems becoming an integral part of the drug development and research process, a challenge drug manufacturers face is the plentitude of choice.
When considering the added complexities of administration of these sensitive molecules and whether to use a traditional vial format or a combination product, drug manufacturers must consider the strategic and cost implications in the earliest stages of development. However, considering that more than half of the top 20 injectable drug products on the market today are delivered in prefilled syringes,1 there seems to be a preference towards use of prefillable syringes. The efficiency and ease of use of not needing to withdraw drug product from vials, with the benefit of significantly reducing dosing errors, spurred the uptake of unit-dose prefillable syringes. The prefillable syringe market is set to exceed USD 6.2 billion in 2023 with a compound annual growth rate of approximately 11% from 2023-2028.2 Sales of prefillable syringes have increased globally, making them a top choice for modern molecule containment.
However, the next, more critical question drug manufacturers must ask themselves is whether to choose glass or polymer syringes. While traditional glass syringes are still widely used, they are not always the best choice when dealing with the sensitive requirements of modern molecules. Certain molecules do not react well with glass and can result in drug interactions with glass packaging.
Glass syringe disadvantages include:
Silicone oil from glass syringes can have a significant impact on the stability of sensitive drug proteins with the potential for protein aggregation; it can also introduce silicone particles into the drug product.
The breakage profile of glass risks expensive drug product loss and can compromise patient safety.
Tungsten pins used in glass syringe manufacturing may result in protein aggregation, protein unfolding, loss of drug efficacy, and possible adverse immune reactions in patients.
Therefore, greater scrutiny in selecting syringe packaging system material is needed considering drug interaction with packaging, drug stability, particulate burden, breakage, silicone sensitivity, and tungsten sensitivity are among the top challenges for drug manufacturers to overcome.
With the shortfalls of glass, polymer syringes are quickly gaining increased attention from drug manufacturers due to their attractive benefits. The two most prevalent polymers used in prefillable syringes are Cyclic Olefin Polymer (COP) and Cyclic Olefin Copolymer (COC). COP syringes have been the primary choice for modern molecule drugs to date,3 and are designed to overcome the deficiencies of glass syringes and protect sensitive molecules.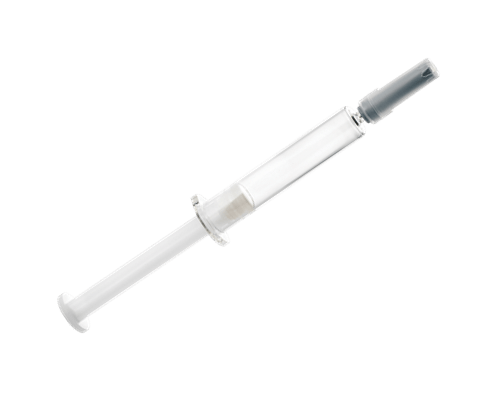 Daikyo Crystal Zenith® COP syringe advantages are outlined below.
Attributes that contribute to product quality:
Enhanced cleanliness and decreased interaction with drug product.4
No added silicone for functionality and free of tungsten and glue.
Lower particulate formation from protein aggregation (Figure 1).
Lower risk of extractables and leachables.5
Breakage resistance with a much stronger breakage profile than glass including superior flange strength needed for use in autoinjectors and can handle highly viscous drug products for subcutaneous injections.6
Attributes that enhance performance:
Compatibility with established manufacturer filling technologies and ready-to-use for aseptic and barrier isolator filling lines.
Designed for compatibility with established and next generation autoinjectors.
Tight dimensional tolerances for a smooth injection profile.
Smooth polymer barrel surface reduces frictional forces even in the absence of silicone oil.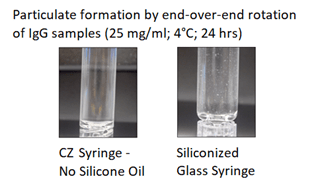 Figure 1. Daikyo Crystal Zenith® (CZ) syringe versus Glass Particle Formation by End-Over-End Rotation of IgG Samples.
The new Daikyo Crystal Zenith® 2.25 mL Insert Needle syringe meets the needs of sensitive molecules intended for subcutaneous delivery that require larger volumes with its higher volume capacity. As drug manufacturers evaluate their packaging strategy earlier in their drug development process, the Daikyo Crystal Zenith® 2.25 mL Insert Needle syringe offers a new larger volume option to enable patient choice, as these syringes are compatible with next generation autoinjectors.
Interested in learning more about Daikyo Crystal Zenith® 2.25mL Syringes attend our upcoming webinar on August 16. Register today!
Crystal Zenith® is a registered trademark of Daikyo Seiko, Ltd. Crystal Zenith® syringe technology is licensed from Daikyo Seiko, Ltd.
References:
IQVIATM SMART - Global MIDAS Edition 2022 Sales Data.
https://www.globenewswire.com/news-release/2023/02/07/2602887/0/en/Prefilled-Syringes-Market-Growth-Trends-Covid-19-Impact-And-Forecasts-2023-2028.html
West CZ 2.25 mL IN syringe Product Specifications. Internal data on file.
Daikyo D21-7HW Material Characterization. Internal data on file.
West TR 2022-040 "High breakage resistance needed for use in auto injectors." Internal data on file.