John Phelan
Manager, Production, Waterford
A Team Member Perspective: John Phelan, Manager, Production, Waterford
I am the Production Manager at our Waterford manufacturing site in Ireland. I have worked at West since 2018 and was the Area Manager for Waterford's Finishing Department until I was promoted in November 2022.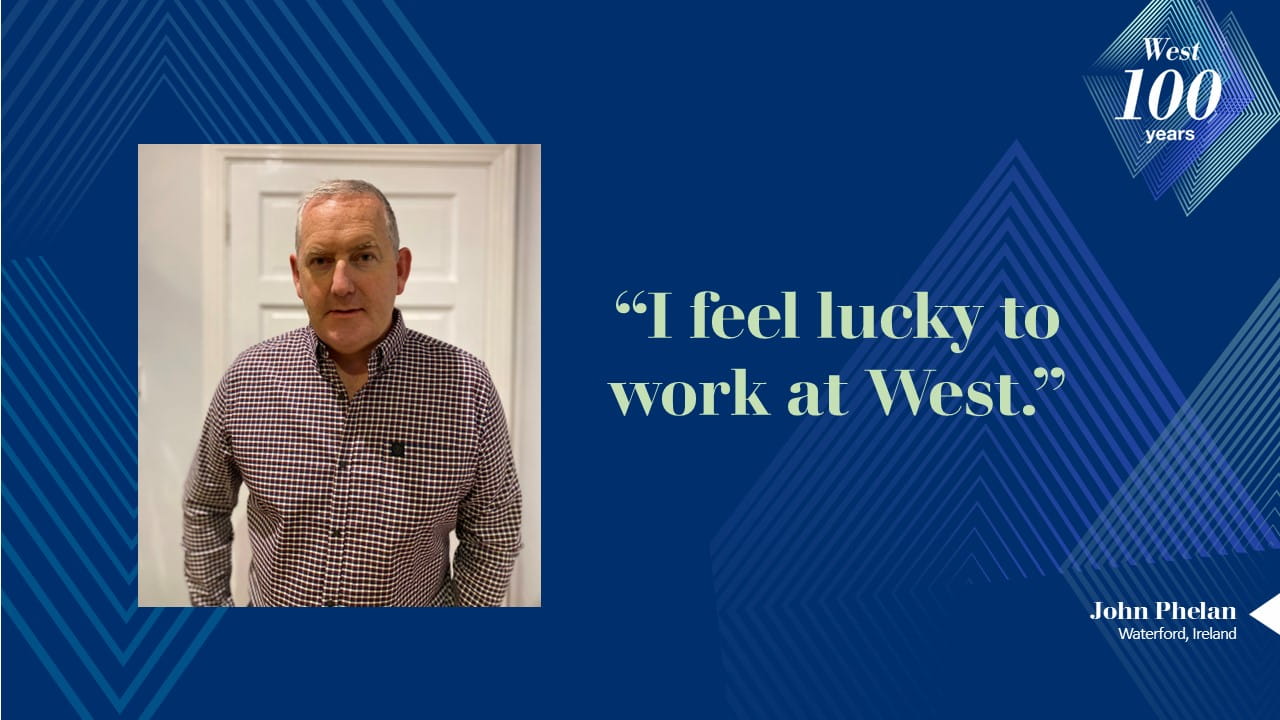 Hearing the news
Like everyone else, when Covid-19 first came on the news, we were all trying to absorb what was happening. We'd never heard of Covid-19 on this side of Europe. We started to hear about countries like Italy that were hard hit with lots of fatalities. There was a lot of fear about.
The big question - was the pandemic going to impact us? Sure enough, it did.
Keeping us safe
Bill Brown and his HSE team were instrumental in helping us achieve what we did through the pandemic. They were absorbing the Government's guidelines and West's guidelines and coming up with new working practices to keep us all safe. They managed to do this, very effectively.
As an operations team we couldn't work from home. We had to come onto site for every shift. As the situation continued to unfold, we received the information we needed to work safely and effectively. Soon we'd have masks. Then we had temperature checks when we arrived and were asked screening questions about how we were feeling. Social distancing was introduced on the shop floor and in our canteen. These measures kept everyone safe, and importantly it meant we didn't bring anything home to our families.
There was a sense of us all being in this together. All of us looking out for each other. The support you got if you had Covid was amazing. The support you had when you were well enough to be on site was amazing. Direction on what we should be doing was clear and we all felt valued.
We had a very collaborative way of working that was hugely important in driving the success of the site during this critical time. Everyone from across all departments and functions pulled together from HSE, HR, quality, labs, maintenance & facilities, supply chain, process engineering and operations – it was a true "One West Team" effort.
If we saw something wasn't right, we would communicate back to HSE in our daily meetings. Everything was discussed at our tier meetings where everyone was free to speak up, ask questions and share their experience. HSE made lots of changes globally based on what they were hearing from people on the ground in different locations. We peaked at 3.8% as our highest rate of absenteeism, which was a testament to the controls and the education provided by West.
Ramping up
As the vaccines started to be innovated, customers came to West as a trusted partner and the demand for our NovaPure®stoppers grew hugely. Not just any company could provide stoppers and plungers that could ensure the integrity of a vaccine. It's part of our 100-year history.
We knew we needed to scale-up to be able to answer our calling, meet our customer requirements and prevent burn-out in our team members.
Before Covid we operated a two-cycle shift – days and evenings. We knew this would have to change. We quickly decided to increase to three cycle shifts – 24/5. But as the orders kept coming in, it became clear we needed to shift to 24 /7 and get more equipment. We discussed a couple of different options with the operators, and collectively decided to implement a weekend shift for the duration of the pandemic.
We saw this as a great chance for Waterford, a fledgling site, to show West what we could achieve. Being open and honest about our approach with our team members was important. Everyone knew there would be an intense period of overtime while we scaled up, but there was light at the end of the tunnel, which helped keep us motivated and on track.
A collective effort
HR gave us a huge amount of support. We hired 93 operators in total, but of course that wouldn't be enough on its own. We also needed more lab analysts, engineers, and facilities and maintenance people. We conducted 100s of interviews and background and medical checks. We didn't drop our standards, we wanted to ensure we were always recruiting the very best people, which we did.
We brought in shift leads at the start of 2021, as I couldn't manage everyone now the team was growing. Of course, we had to induct and then train everyone. Our Operators were doing the training while they were also doing their own jobs. Teamwork was critical in sharing the load.
We did it!
I am incredibly proud of what we achieved. I feel lucky to work at West. Week by week we were hitting our targets, we maintained the quality our trusted relationship is built upon, and we got the products out on time. Resilience and teamwork were key. We did our bit fighting the global pandemic.