Michele Polinsky
VP, Corporate Communications
100 Years of Being By Your Side for a Healthier World™ - "Keep everlastingly at it"
West turns 100 this year! A milestone we are very proud of, and something few companies have the opportunity to celebrate. Today, we are a global market leader who is defining the evolution of our industry. AND that's the way West has operated since the beginning.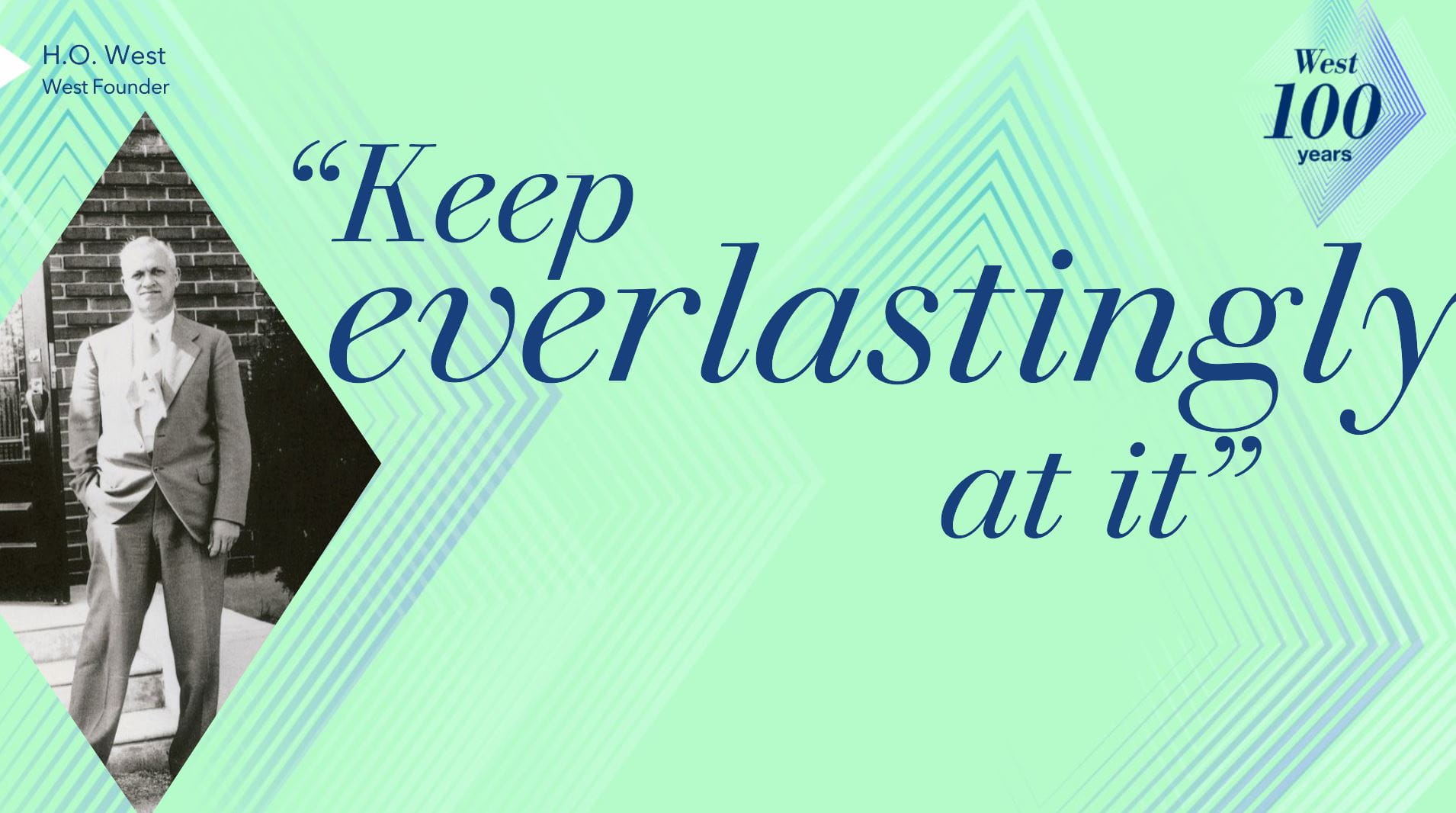 Over the course of our 100-year history the West name has come to mean so much to so many people. Throughout 2023, we want to showcase West at its very best – now and across our 100-year history. We will share stories from our team members, customers, partners and West family members, whose grandfather H.O. West founded the company back in 1923.
To kick off this series, we would like to share with you a story about the beginning of West spotlighting founder, Herman O. West.
About H. O. West, the founder of West Pharmaceutical Services
After two failed businesses, H.O. West's father walked out on the family when Herman was just 12 years old. Coming from humble beginnings and becoming the man of the family at such a young age had a huge impact on his outlook on life. These hardships gave Herman a determination and drive and forged him to be generous with others.
Herman understood a good reputation could take you far. He wanted to be a great leader internally, but also be actively involved in the community. It was never just about running a successful business and making a profit. His vision was to have a positive impact on the world by doing good.
In 1923, at a small location in Philadelphia, Pennsylvania, the West Company was founded when Herman O. West began manufacturing rubber plungers for dental cartridges. Before long he spotted a growth opportunity and began to manufacture aluminium seals at the other end of the site. The demand for aluminium products grew so much that in 1945, he established West's Aluminium Division.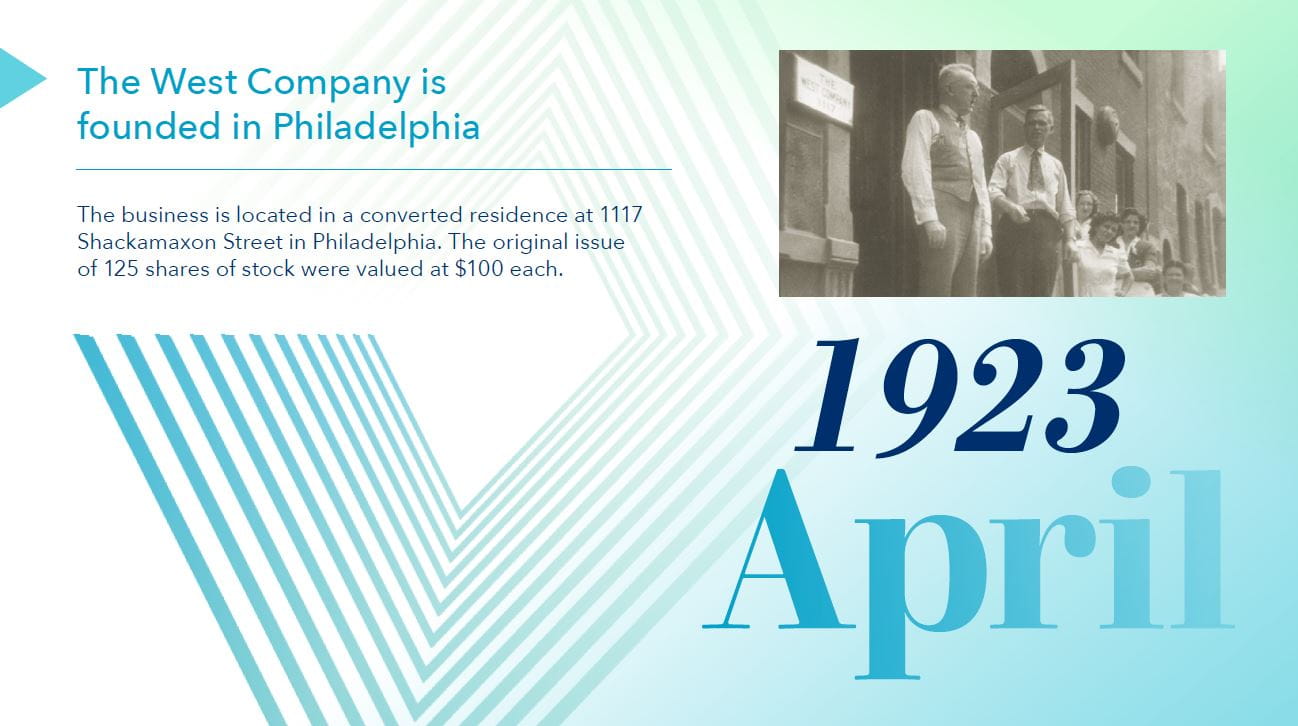 During World War II, Herman O. West, partnered with Eli Lilly to solve the problem of supplying penicillin in mass quantities for the US Government. This innovation that saved many soldiers' lives and has gone on to impact billions of other patients' lives since then. West's relationship with Eli Lilly became an important one. Having just one rubber supplier for their products was a concern for them, as their policy was to have multiple sources for their most important items. But they didn't need to worry, because H.O. West was a man of his word. When our trucks wouldn't deliver in time, he was known to board the Paoli Express – the fastest way to travel back then – carrying boxes of product to meet their promised delivery. You could say that was our first ever supply chain innovation.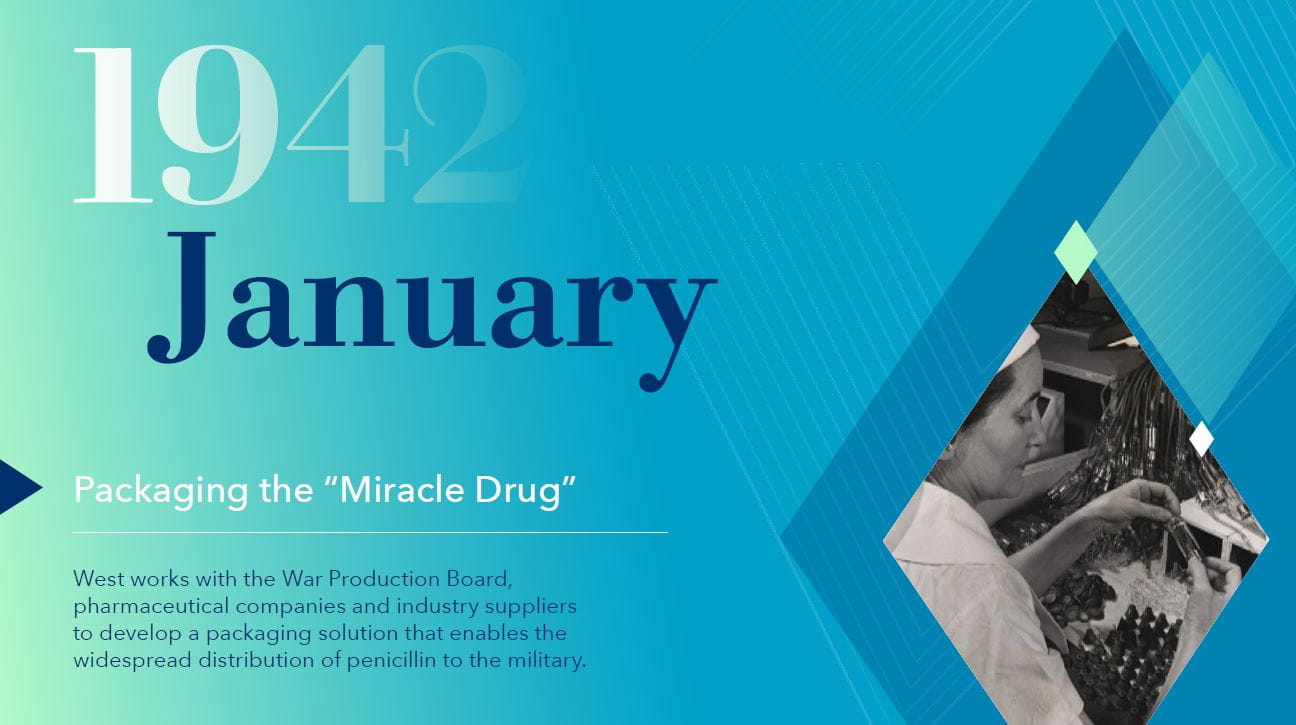 "Keep everlastingly at it" was a phrase Herman often used. It summed up his hardworking nature. He was a perfectionist for detail and doing the job right because he understood quality was everything.
A driving force from the foundation
A lot of West's success today is based on how well Herman built the foundation of his business on. He was a great salesperson, always coming back with more orders from every trip even during the Depression. He had high standards but was kind and fair hearted. His philosophy was to "Do a good job and produce it as fast as possible'. Early associates described West as a boss who acted "tough and sandpapery" and had "little time for yes men", but he was also a good listener. He always tried to help others and encouraged people to air their grievances so any problems could be resolved.
Herman's legacy
The legacy H.O. West built, has had such a positive impact on the world – not only in what West does, but how West continues to give back, sharing the success with those who need it most. There was so much to H.O. West's name. It's amazing to see his good character and strong values and principles shining brightly in West 100 years later through our innovations, growth, team members and culture of giving.
Learn more about West's 100 Anniversary here and be sure to check back each month for more stories on our journey through 100 years of innovation and growth to continue being by your side for a healthier world™.