Christa Jansen-Otten
Fellow, Technical Product Development Director
West Rigid Needle Shields - An Added Safety Solution for Prefilled Syringes
The ongoing trend of the pharmaceutical industry is shifting toward pre-filled syringes (PFS) as the optimal delivery system for many drug products. Among other risk factors, the safety of a drug product depends on the quality of the elastomeric components.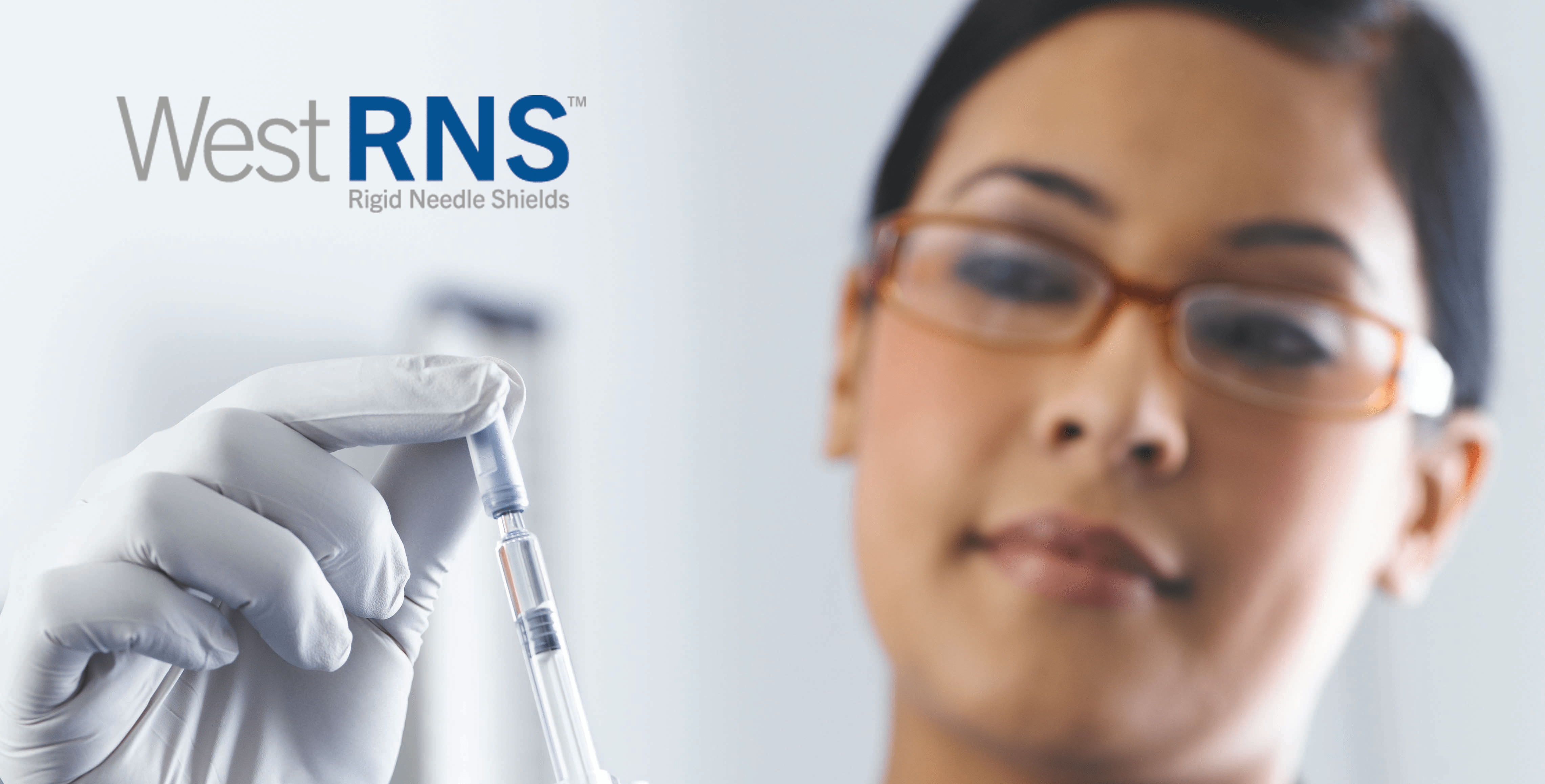 The right selection of elastomeric front closures in combination with the pre-filled glass syringe is of ultimate importance. A variety of closure designs and elastomeric components are available and need to fit the individual needs of each drug product.
Front closures like Tip Caps, Soft Needle Shields, and Rigid Needle Shields (RNS) are assembled to the pre-filled syringes during manufacturing at the glass vendors prior to sterilization treatment. They are primary packaging components, as they are in direct contact with the liquid drug product. When a Tip Cap is used, the liquid drug is in contact with the elastomeric material through the luer cone opening. When a Soft or Rigid Needle Shield is used for staked needle syringes, the liquid drug is in contact through the needle tip which sticks into the inner soft elastomeric needle shield.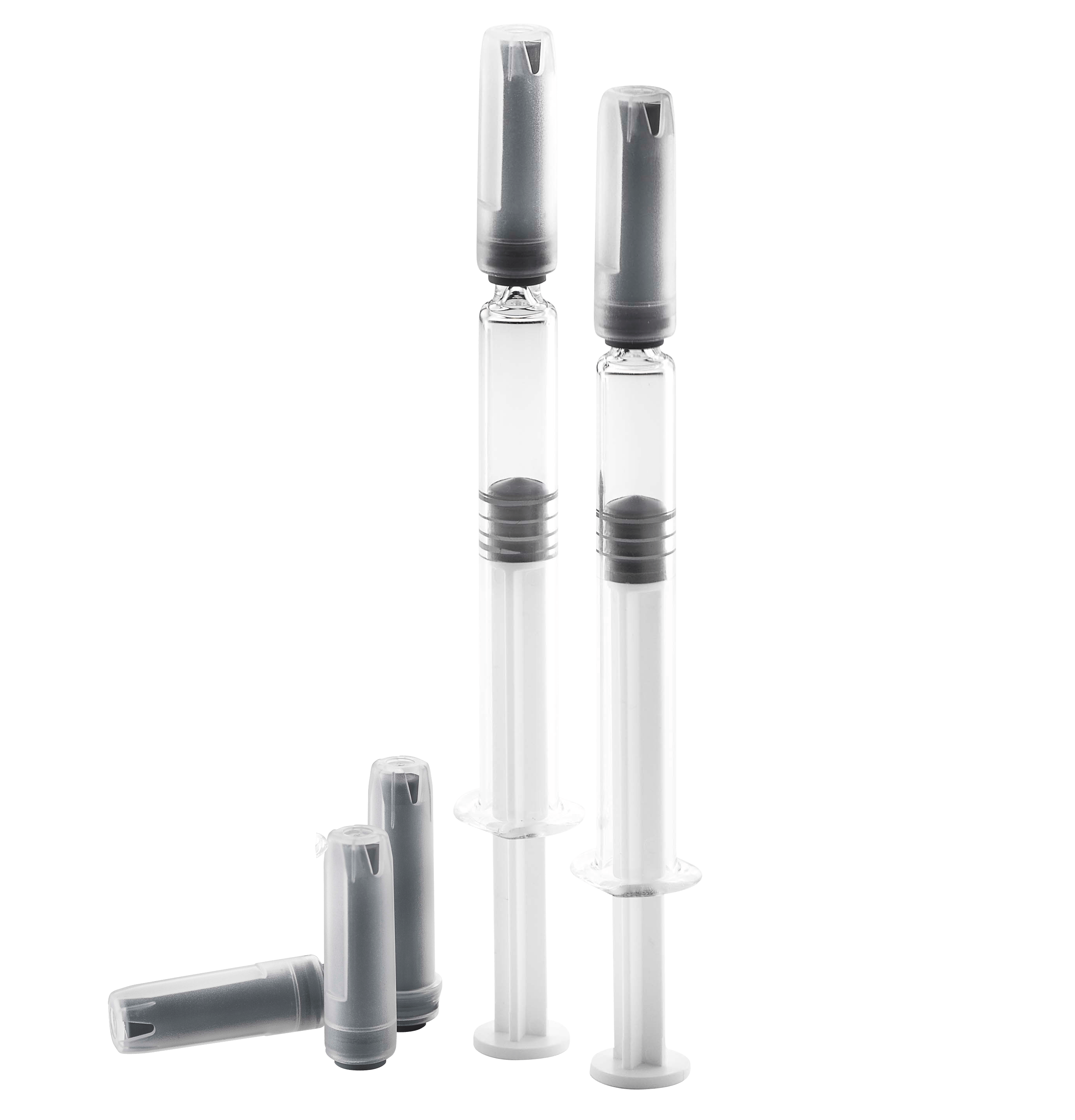 Today, the RNS is the preferred closure system for pre-filled syringes with a staked needle. For optimized efficiency and to assure the integrity of the drug product, our RNS combines the sealing properties of an inner soft rubber shield made of pharmaceutical elastomeric polyisoprene material with the rigidity of a medical grade polypropylene cap (outer shell).
RNS's provide safety, protect the hypodermic needle, and facilitate a proper de-shielding through their optimized design. The West RNSs are designed for ISO prefilled syringes with a staked needle. Their user-friendly design is beneficial for healthcare professionals when removing the shield from the syringe to avoid needle stick injuries.
West has developed Rigid Needle Shields in two different sizes, covering most of the staked needle syringes demand in the pharmaceutical market. These sizes are referred to as ½'' [half inch] RNS and ⅝" [five eighth's inch] RNS. The ½'' needle length is used for subcutaneous injecting e.g., for drugs like Heparins or most Biologics and the ⅝" needle length is used for intramuscular injection, e.g., for vaccines. Within the last two years, there is a significant need for ⅝" RNS due to the continuing demand for market-proven closure solutions and adequate capacities.
Tight dimensional tolerances are reached through precision injection molding [PIOM] of the soft needle shield, high precision plastic molding and controlled assembly processing. The design combines benefits from controlled pull-off force [POF], reducing risk of pop-off during sterilization treatments and high separation forces. West Rigid Needle Shields are also compatible with many marketed safety devices.
West RNSs' are designed for simplified distribution and orientation on syringe assembly lines from different vendors. The transportation on a commercial assembly line being adjusted between different brands of RNSs requires only minor adjustments without any format part changes to the existing line. This facilitates a smooth switch to additional RNS brands if a second source supply is required.
The utility of a syringe system is dependent upon its ability to maintain good container closure integrity (CCI) through drug product shelf life, assured through two proper sealing areas. The RNS was designed to provide CCI on an ISO 11040-4 glass syringe with a staked needle but is also suitable for polymer pre-filled syringes.
West Rigid Needle Shields: Composition & Sterilization
The soft needle shield can be manufactured in multiple West elastomeric formulations, such as 7025/65 grey and 7028/55 grey. The 7025/65 grey formulation is a blend of a synthetic polyisoprene and a bromobutyl and is a well-known formulation used for multiple approved drugs in the pharmaceutical market. The 7028/55 grey formulation is also based on a synthetic polyisoprene but was optimized for high resistance to ozone cracking and is West's primary recommendation. Besides excellent physical properties (elasticity, re-seal ability and low fragmentation), polyisoprenes have high permeation rates, whereas most of parenteral applications need low permeation (e.g., serum or lyo stoppers and plungers).
Both formulations are compatible with steam, gamma, and ethylene oxide [EtO] sterilization. In the majority of cases, RNSs are pre-assembled on washed, dried, and siliconized pre-filled syringes with staked needles that are packed in a nest tub with permeable secondary packaging material and then exposed to EtO gas. The rigid cap with its sterilization windows in combination with the permeable rubber compound allows a sterilization of the covered part: needle and outer surface of the glass cone. To demonstrate that the RNS in both formulations can be sterilized with a typical EtO cycle and provides CCI over time as intended, West conducted a functionality study over time in partnership with well-known industry experts from the pre-filled syringe vendor industry and sterilization experts.
The RNS sterilization was validated following an overkill approach for a typical EtO cycle. Analysis of ethylene oxide and ethylene chlorohydrin residuals was reduced to acceptable levels after aeration. Functional analysis revealed that the pull off force allows convenient removal of the RNS prior to injection of the drug, while a simulated air transport with reduced air pressure showed that the RNS sits reliably on the syringe to maintain CCI. Two sealing areas, one at the tip of the cannula and another on the cone of the syringe, ensure the packaging integrity. A leak test with high pressure on the plunger showed that the RNS maintains CCI. As the tip of the cannula pierces the rubber part of the RNS, we tested the RNS for coring and fragmentation. We received excellent results for both rubber formulations. All test results are presented in more detail in West's Knowledge Center in Technical Report 2018/182: West RNS™ ½ inch Cap Rigid Needle Shield Product Characterization Summary* and Technical Report 2018/183: West RNS™ ⅝" Cap Rigid Needle Shield Product Characterization Summary*.Overall, the RNS has proven to be an effective solution for syringes with staked needle in ½" or ⅝" to maintain the packaging integrity and to promote safety for the patient.
References
* Requires Knowledge Center Customer Content Access