Hans-Joachim Wickert
Managing Director of Wikert Maschinenbau
Partner Perspective: Hans-Joachim Wickert, Managing Director of Wikert Maschinenbau
My grandfather started Wickert in 1901. He was a blacksmith who was involved in the production of horseshoes – the tires of their time! Living in an area with plenty of vineyards, the company went on to make wine presses before switching to rubber presses after WW2.
The invention of the rubber sole for shoes completely changed the company's destiny. A lot more presses were needed to produce the soles – so production ramped up. This specialism eventually led Wickert on to creating presses for pharmaceutical rubbers. And that's where our story and West's come together.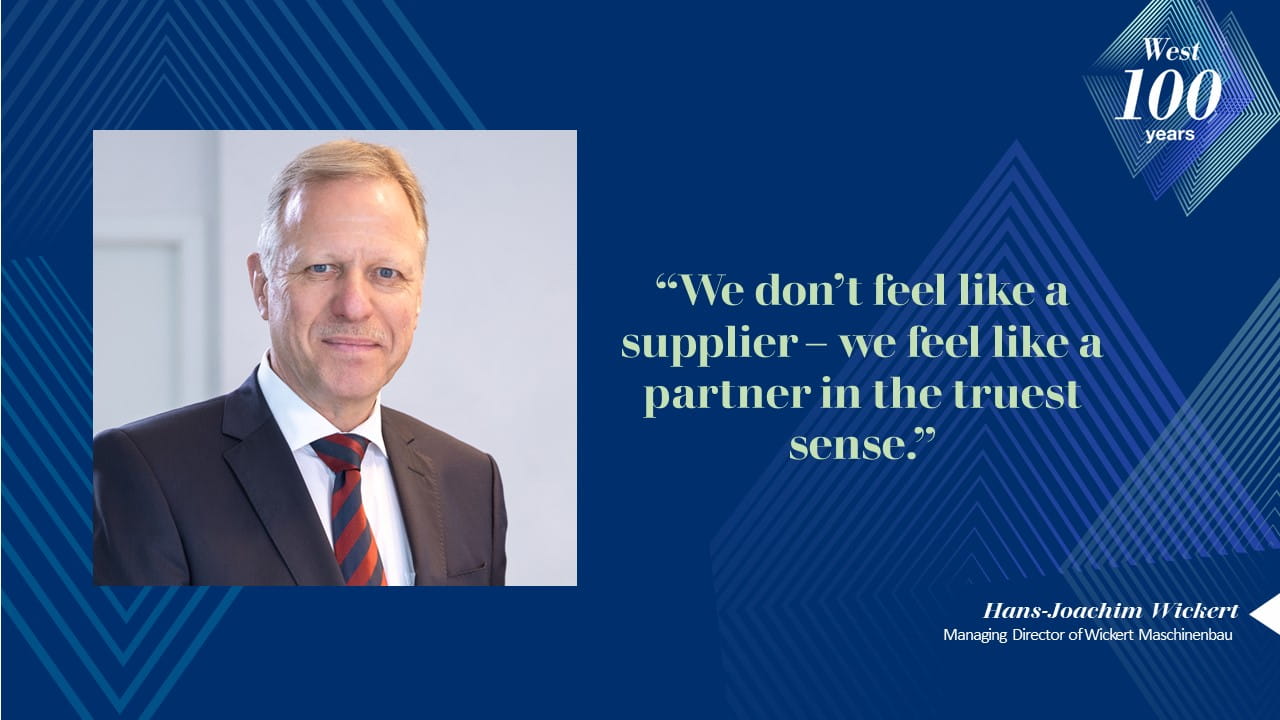 It began in 1987
While I was on a manager training course in Germany, I met three West team members from their Eschweiler, Germany site. The course ran for about a year, with everyone getting together over nine or ten weekends. We all became friends and found out more about each other's businesses. When I learned that West's presses weren't performing as well as they'd like, I paid them a visit to see if I could help.
It began with one order: a small Wickert press that's actually still in use today. Our two businesses quickly developed a strong partnership. Today, we're closer than ever to West. There's a lot of trust.
Shared DNA
Of course, there have been some technical challenges over the years. But, like West, that's what we love to do – to solve problems.
A great example was when we solved a challenge around manufacturing barrier film stoppers. Back in 2003, West was having some difficulties with over-molding. I went with some of our technicians to the St. Pete plant in Florida to observe the process and its main issue: a lot of the inserts were popping out of the cavities after being manually inserted.
That evening, at our hotel, we started to scope out solutions. By morning, we had a sketch ready to show the West team.
That's how the ITD (Insert-Transfer-Device) was born. Our machine is still in use today and has also evolved into the Wickert-Twin-Chargers – ITDs for double deck presses.
I loved working on challenges like this with West. We both share a passion for ideas, engineering, and innovation, and working in the right way. We both value trust and openness – and are driven to do the right thing.
Strength in adversity
It's not lost on us that the presses we create for West impact people's lives. We're proud to have that responsibility – it's what keeps us improving and innovating.
Working with this shared purpose has never been more apparent than during the COVID pandemic. Together, we produced machines at a pace we didn't think was possible. We almost halved the usual 10-month lead time without compromising on the quality or the outcome.
It's only with mutual trust that something like this becomes possible. This whole experience brought us closer together. We don't feel like a supplier – we feel like a partner in the truest sense.