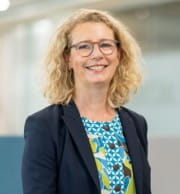 Lene Hylling Axelsson
Sr. VP, Novo Nordisk
A Customer Perspective: Lene Hylling Axelsson, Novo Nordisk
Today I am a Senior Vice President at Novo Nordisk one of West's biggest customers.

A few years ago, I used to work quite closely with the West team. I clearly remember my first negotiations with West. Our interactions gave me the feeling that your team members had a deep understanding of our patients, the urgency of the particular matter we were negotiating about. I was under no mistake that their attitude and behavior towards my organization demonstrated a thorough wish to continue working together for many years to come.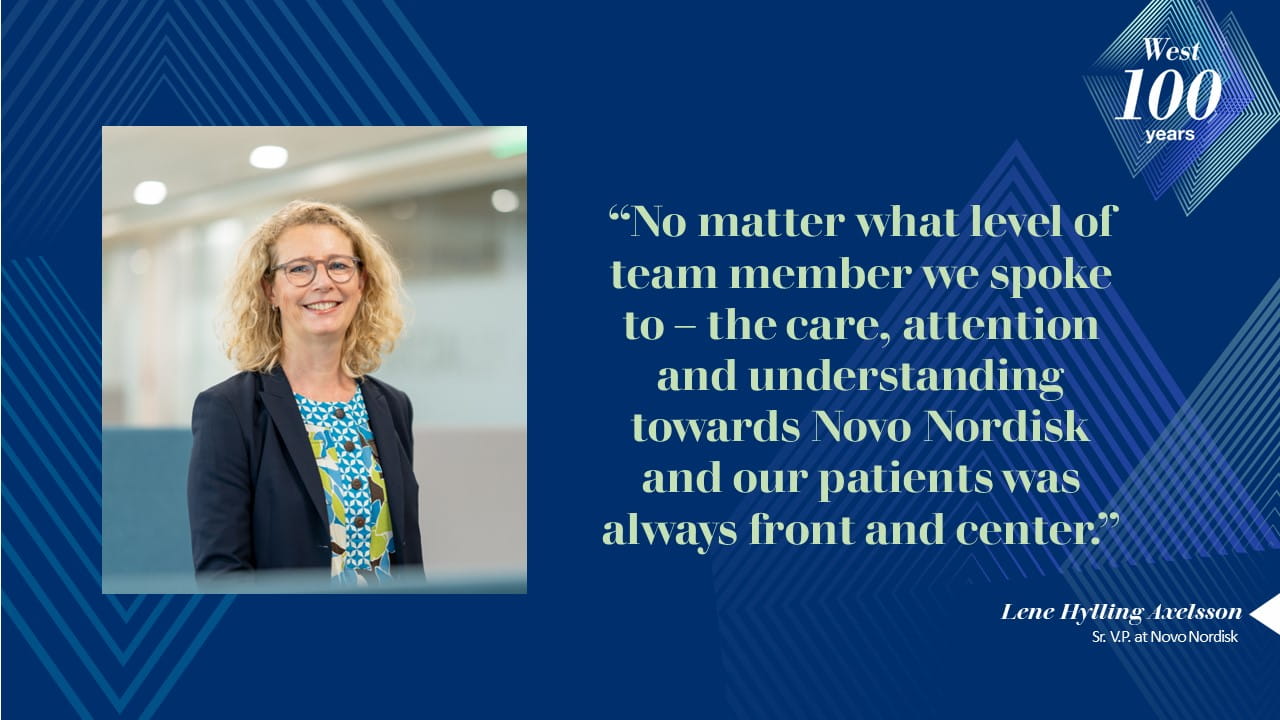 No matter what level of team member we spoke to – the care, attention and understanding towards Novo Nordisk and our patients was always front and center.
In the pharmaceutical industry any supplier collaboration is extremely important – especially when the final product is going to a patient. We are collectively responsible for ensuring our patients receive everything exactly as they need it with exceptional quality. They shouldn't need to worry about anything to do with their treatment. It might feel like West is only playing a tiny part in the final product – but no matter how small the part is, it's still vitally important.
Our two organizations have now successfully collaborated for so many years. If there is a crisis, we know who to reach out to. We know both partners will do everything in their power to solve what's happening and help each other out. West and Novo Nordisk have demonstrated this behavior towards each other time and time again over the years. We have each other's backs. We trust one another, completely.
As we move forward, staying relevant to each other requires us to continue to have a close dialogue and to be invested in each other's success. Aligning our plans and decisions is critical.
The pharmaceutical industry is rapidly changing. We are growing and launching new products in new markets. We need ever closer dialogue to ensure we do this as quickly as possible, working together to make sure we meet local regulations all around the world. And we need our partners to be investing in their production capacity so that we can grow together. It simply wouldn't work if you have one partner focusing on future growth and the other focusing on the here and now and cutting costs. You need to align.
We also need our partners to share the same focus on our patients. We both need to be obsessed with them – understanding the need for urgency, quality and being there on time – knowing how crucial it is that we deliver what our patients expect. Reacting to any issues as quickly as we can.
I would like to congratulate West on reaching this huge milestone, becoming a century old organization. Incredibly Novo Nordisk reaches the very same milestone itself this year. I am in absolutely no doubt that with continued close dialogue, alignment, and a shared customer obsession our partnership will continue across both our next 100-year chapters.