Page McAndrew PhD and Margaret Craig
Characterization of Elastomer Plungers for Intended Use
Experimental characterization of an elastomer plunger in a particular pre-filled syringe system is essential to help pharmaceutical manufacturers determine whether that plunger is suitable for intended use. The strategy for a characterization study must consider relevant factors, in particular, compatibility with drug product and the ability to enable consistent delivery of drug product (dosage and time), by a clinician or by an autoinjector.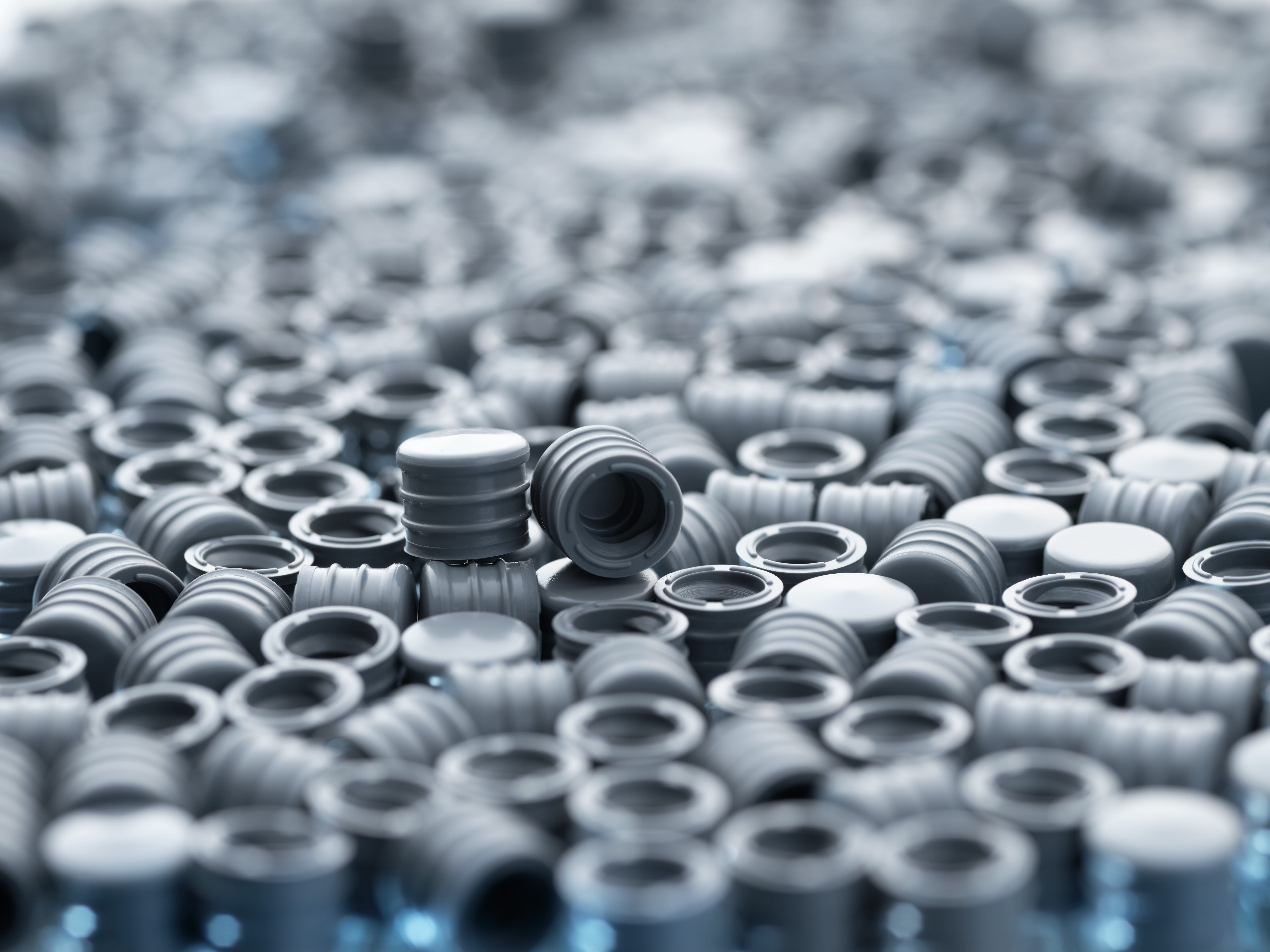 At the recent Parenteral Drug Association Universe of Pre-filled Syringes meeting (October 18 and 19, 2022, Palm Springs, CA), West scientists delivered two posters that addressed experimental characterization of plungers for pre-filled syringes.
Page McAndrew, Director of Scientific Communications, delivered the poster: Elastomer Plungers with Fluoropolymer Barrier Films – Utility for Emerging Drug Products.
Fluoropolymers have many commercial uses, one of which is drug-product packaging. This poster specifically highlighted the utility of FluroTec™, an ethene-tetrafluoroethene (ETFE) barrier film. These films, when laminated onto plungers, restrict the motion of leachables from the elastomer into the drug product, and reduce the chance of interaction between the drug product and the elastomer, both of which are essential to the quality of the final product. Moreover, plungers with FluroTec™ film demonstrate good break-loose and extrusion performance, as well as consistent delivery volumes and times, shown in Figure 1. All these features are critical for reducing associated risk, especially for emerging drug products such as vaccines, where timelines for approval are often shortened.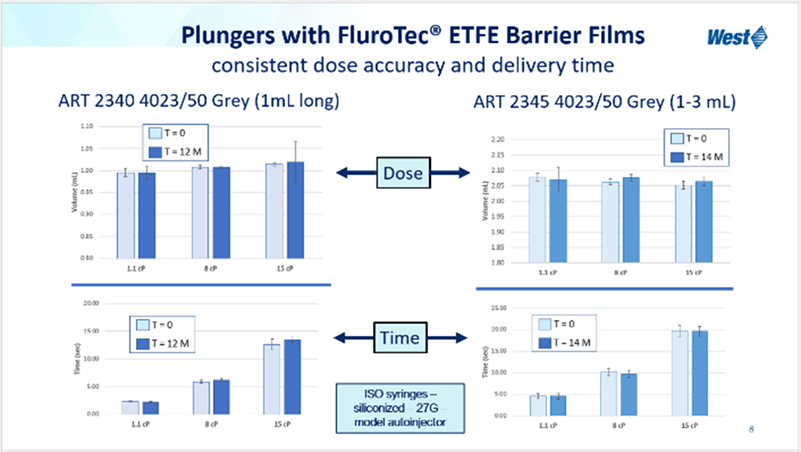 Figure 1. Comparison of delivery volumes and times at T=0 and T=12 months for 1 mL and 1-3 mL plungers laminated with FluroTec™ ETFE barrier film.
Tibor Hlobik, Senior Director of Product Technology Services, delivered the poster: Importance of 2.25ml Autoinjector Rod to Plunger Design Space – Overlooked Critical Input for Dose Accuracy and Elimination of Leakage.
Selecting the proper rod for a plunger is important, though it is often overlooked. This is especially important for syringe systems used in autoinjectors where plungers can be subjected to very high spring-driven forces. Improper selection can result in failures such as plunger distortion and leakage, which then result in loss of drug product and concomitant insufficient dosage. Demonstration was given not only of proper rod design, but also of improper designs. For example, thinner rods were found to elongate the plunger on injection, resulting in leakage, as seen in Figure 2.

Figure 2. The progression of drug product leaking past a plunger with improper fit.
The chance of leakage increases with the viscosity of the drug product and the force at which the syringe is depressed. Therefore, an optimized interface of rod and plunger is critical to allow for a variety of liquid viscosities and autoinjector speeds. Moreover, proper rod selection not only prevents drug leakages, but promotes consistent break-loose and extrusion performance, and concomitantly consistent delivery volumes and delivery times.
Proper characterization studies enable pharmaceutical manufactures to select proper components early in development. This serves patient needs by enabling more rapid delivery of drug products to market.
Click here to learn more about our prefillable syringe offerings. For more information, contact an Account Manager or Technical Customer Support representative.
FluroTec™ is a trademark of West Pharmaceutical Services, Inc. in the United States and other jurisdictions.
FluroTec™ technology is licensed from Daikyo Seiko, Ltd.