Michele Polinsky
VP, Global Communications
Celebrating 50 years of partnership
Since 1973 West and Daikyo have embarked on a journey of partnership that has been essential to understanding customer challenges and providing solutions. Celebrating 100-years of West this year, it also marks 50-years of partnership with Daikyo. We recently held an engaging team member event with our Daikyo team as part of our ongoing 100th speaker series. It highlighted the importance of this partnership and the continuous strength between the two companies' symbiotic relationship and mutual goals to bring great value to the offerings and solutions for the customer and ultimately, the patients we jointly serve.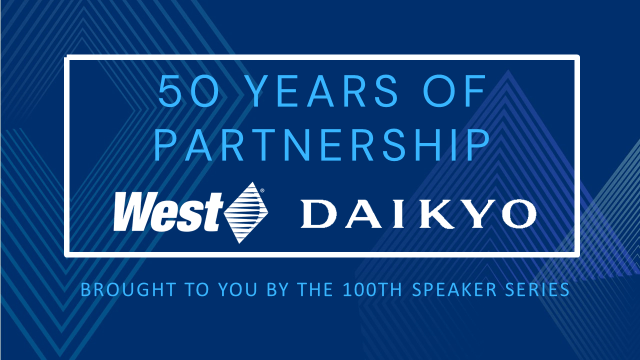 The history of our partnership with Daikyo has grown significantly throughout the years, embarking in 1973 with a Shareholder agreement, to recent years expanding to a larger minority stake, with exclusive rights of distribution of Daikyo products.
Vinod Vilivalam, Ph.D. VP Daikyo Relationship Partner Executive, commented, "Over the years we have strived to build partnership of trust and collaboration, strengthening innovation and knowledge transfer on both sides, and expanding Commercial, Regulatory, Quality and Scientific collaboration, which has led to innovative product offerings and deeper customer support."
Kuni Noto, EVP Daikyo, commented, "West increased its equity stake in Daikyo Seiko, Ltd. Strengthening the commitment to work together to offer solutions for our customers' challenges. We aim to strengthen our collaborative efforts ever more than before to ensure a stable supply of innovative high-quality products to the markets."
Looking ahead with a passion for our customers, we aim to continue to strengthen our collaborative efforts and solve challenges for customers in the years to come. Click here to learn more about our partner Daikyo Seiko, Ltd.