Abigail Hisler
Global Director of Strategic Marketing, Biologics
Key Considerations for Emerging Companies When Selecting Primary Packaging Components
Competition is increasing in the biopharmaceutical pipeline due to a growing number of new entrants, more players are bringing their drug all the way to market and many companies are utilizing accelerated development pathways, making it an even faster race to market. If you are like many other newly formed biotech companies, you're doing your best to manage many activities critical to your success with limited resources, all while trying to accelerate your path to market.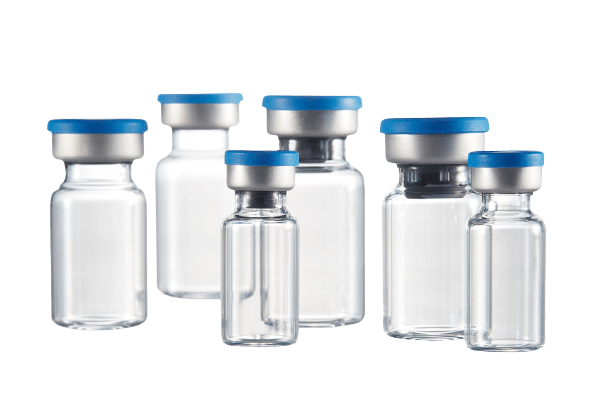 Emerging companies like yours are often disadvantaged compared to established drug manufacturers, taking 2 years longer to get to market and receiving complete response letters (CRL) at 38% higher rates.1 Longer development times and higher CRL rates can have significant negative repercussions such as additional clinical trials, rework, and delays, resulting in increased costs and potential lost future business.
With countless activities to manage, new companies may underestimate the complexity of selecting the most suitable packaging system or may not have the available resources. Packaging development may be deprioritized or delayed until Phase II or III or maybe deferred to an outsourcing supplier such as a CDMO. Regardless of a company's size, recognizing the importance of packaging development and prioritizing its role in drug development early on can help you proactively identify events that could delay your timelines and prepare you to develop strategies to overcome these risks.
Here are 5 key considerations in component selection:
1. Starting Packaging Development Early
Your drug product will have specific requirements which will determine the best component selection, and there is no guarantee you are going to establish those requirements early on. Drug product formulation, quality, and regulatory challenges are easier to manage when considered early in pre-clinical or Phase I. Doing the necessary work upfront by evaluating packaging options which offer the lowest risk to your drug product and resolving known issues will position you well for Phase III, long before you need to finalize your containment system. You can continue through development with the assurance that your packaging solution is well suited for your drug, thereby avoiding downstream delays and allowing you to focus on other critical launch activities.
2. Establishing a Container Closure System
Demonstrating container closure integrity (CCI) is a fundamental regulatory requirement to qualify your sterile injectable drug. CCI of the selected packaging system for your drug product is critical to ensure that the closure system is properly sealed throughout the life of the drug, protecting the drug from contaminants, preventing product loss, and protecting the patient. CCI can be affected by many factors over the drug shelf life such as transportation, temperature fluctuations and other storage conditions. Temperature becomes particularly relevant in the field of biologics where many high value advanced therapies require cold temperature storage (-50° to -80°C).
3. Protecting Your Drug Product
The complex and sensitive nature of biologic drugs requires extra protection, for example, if the drug product has a high pH. But protection starts closer to home than that with the packaging system itself. Drug products in direct contact with packaging components presents a potential risk for leachables. Mitigating the risk of adsorption and absorption early in the drug development process can save you time and additional efforts later on. Additionally, once you have established a suitable packaging system, you will need to ensure that risk of breakage is low throughout the product shelf life to avoid risk of line clearance in fill finish operations, during transportation, freeze/thaw cycles or during drug administration.
4. Minimizing Particulate Risk
Particulate control drives regulatory agencies to increase their product quality expectations. Draft FDA Guidance released in December 2021, Inspection of Injectable Products for Visible Particulates2, is aimed at drug manufacturers to develop and implement particulate control programs for injectable drugs. It states that "quality should be built into the manufacturing process" and that drug manufacturers control intrinsic particles through "careful selection and quality control of components, containers and closures, and packaging materials." While Quality by Design (QbD) is a key principle in drug development, its application is often not considered when choosing packaging components. QbD adopts a holistic approach to quality during drug development, that should guide you to include a careful evaluation and selection of components to ensure you are addressing the risk of particulate contamination.
A key element of QbD is starting with the end in mind and this is pertinent when considering scale up activities. The packaging components you chose in early development may cause you costly challenges at the scale up stage, such as requiring a specialized CMO, expensive change parts or investments in production tooling. So, planning your scale up early, can save you time and money at this stage of development. Some areas for consideration include:
If outsourcing production to a CMO, you should ensure they use your selected packaging system rather than their pre-approved components which may not be best suited for your drug product. Leverage the expertise and guidance from an injectable drug packaging expert.

Ensure the components you choose are available in the right product quality in the right quantities at the right time. The final step is to ensure your chosen fill finish operator can accommodate these parts.

Streamline your regulatory pathway by using the same components from clinical to commercialization, thereby simplifying your path to market.
Packaging decisions can impact the success and timing of your launch. For emerging companies less experienced in packaging development, the Ready Pack™ vial containment solution can help you address these risks discussed above when bringing a drug to market. The West Ready Pack™ offering combines best-in-class components (stoppers, seals, and vials) into a proven vial containment solution, allowing emerging drug developers to quickly source a complete vial containment solution that can easily scale up from early drug development to commercialization.
West recently added to the Ready Pack™ offering Corning® Valor® RTU Vials with Stevanato Group EZ-fill® technology together with West's highest quality NovaPure® stoppers and Flip-Off® CSS (clean, certified, sterilized).
Introducing the West Ready Pack™ Vial Containment Solution with
Corning® Valor® RTU Vials with SG EZ-fill® Technology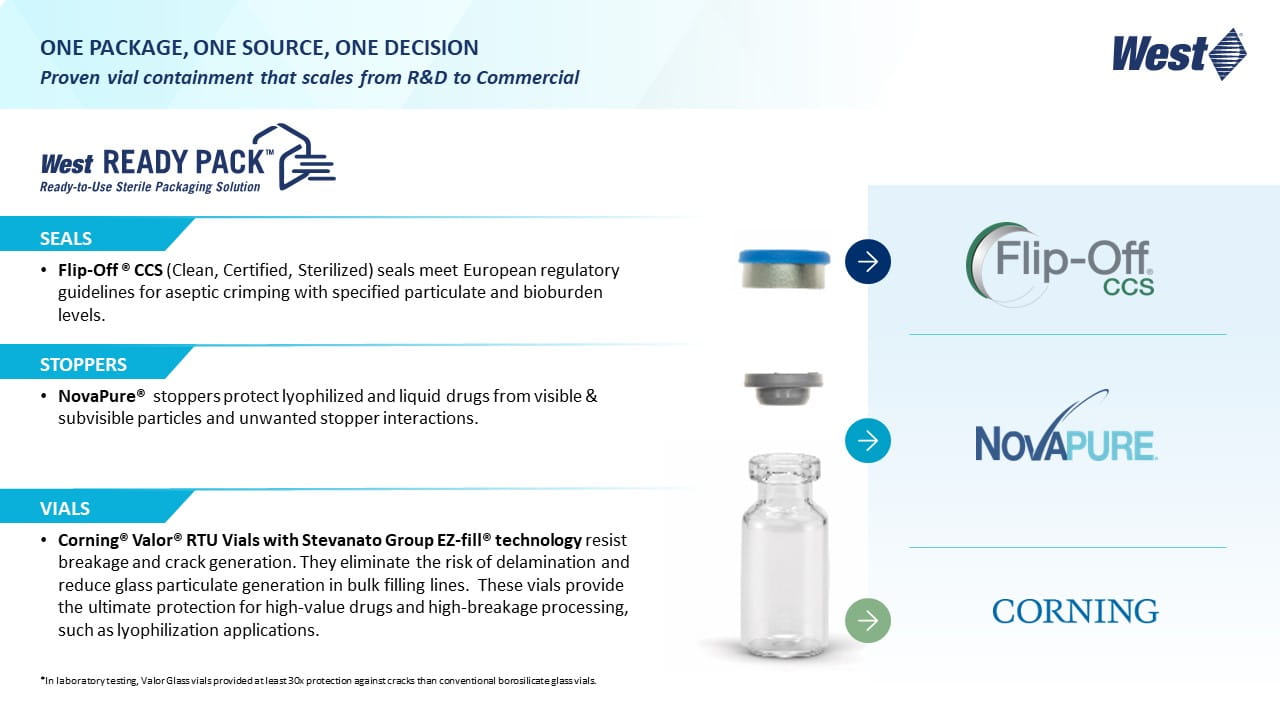 West's Ready Pack™ containment solution with Valor® RTU Vials utilizing SG EZ-fill® technology can help you mitigate development risks:
Ready Pack™ Containment Solution with Valor® RTU Vials utilizing SG EZ-fill® technology Enables You to Start Packaging Development Early

Components are available in ready-to-use small quantities, which are ideal for early-stage development work, allowing you to avoid the waste of commercial volumes. Stoppers, seals, and vials are supplied sterilized, ready-to-use, and can be directly introduced into your filling operations, eliminating component preparation from your process, and reducing extra processing steps and time. Multiple configurations are available for stoppers, seals, and vials to provide you with components best suited for your molecule. You have the flexibility to buy the complete solution or only the components you need, allowing you options to test and evaluate in early development.

Ready Pack™ Containment Solution with Valor® RTU Vials utilizing SG EZ-fill® technology is a Complete Container Closure Solution

Source a complete packaging solution because the Ready Pack™ containment solution portfolio demonstrates CCI, giving you peace of mind that components work together, reducing your time assessing components which are not compatible to work together as a system. The Valor® Glass vial and NovaPure® stopper combination is a suitable and reliable vial containment solution for drug storage at temperatures as low as -80°C.

Ready Pack™ Containment Solution with Valor® RTU Vials utilizing SG EZ-fill® technology Protects Your Drug Product

West Ready Pack™ containment solution includes superior quality components to protect, store, and deliver your drug product. NovaPure® stoppers are coated with FluroTec™ barrier film, which is highly valued and proven in the biologics market. At least 130 drugs have been approved in combination with FluroTec film elastomers. Valor® Glass vials eliminate delamination and have low extractable concentrations making them ideally suited to protect sensitive drug formulations. These vials are made from exceptionally strong glass, resisting damage and breakage, and preventing cracks. In laboratory testing, Valor® Glass vials provided at least 30x protection against cracks than conventional borosilicate glass vials.

Ready Pack™ Containment Solution with Valor® RTU Vials utilizing SG EZ-fill® technology Minimizes Particulate Risk

Components in the Ready Pack™ containment solution portfolio were designed to minimize particulate risk. NovaPure® stoppers offer the tightest particulate specification for West elastomers with both visible and subvisible specifications and Flip-Off® CCS seals have a low particulate level. Valor® Glass vials and their external coating significantly reduce glass particulate generation. By selecting components that can mitigate particulates, you'll reduce the risk of particulate-related rework and costs, allowing your team to maintain their focus on advancing your molecule, rather than stopping to investigate particulate issues.

Ready Pack™ Containment Solution with Valor® RTU Vials utilizing SG EZ-fill® technology Enables Easy Scale-Up

West supplies commercial-size volumes of the stopper, seals, and vials offered in the Ready Pack™ containment solution portfolio, enabling your scale up and simplifying your supply chain with a complete packaging solution. By choosing components offered by one supplier you can streamline your ordering process and avoid issues associated with a fragmented supply chain, where multiple suppliers are used with unmatched products throughout your development. The Ready Pack™ containment solution provides you the assurance that your drug product and its packaging maintain a consistent profile from clinical stages through commercialization, further simplifying your regulatory path and potentially avoiding additional regulatory filings.
Summary
Drug packaging is critical to the success of your drug product as well as the patient experience and should be considered an essential part of your drug development. Using the wrong materials for your drug product, delaying packaging decisions, or not thinking further downstream could lead to risks in your program such as delayed timelines, or even worse, potential safety risks to patients. The Ready Pack™ offering provides a packaging solution that, combined with technical and analytical laboratory expertise from West, can help you move your sensitive molecule from small-scale development through to approval and scale up.
If you work for an emerging company or are in the process of developing a sensitive molecule, read more about West's Ready Pack™ containment solution with Valor® RTU Vials utilizing SG EZ-fill® technology and West's Analytical Lab services to mitigate your risks and help you get your drug to the patient faster.
Sources
1- Emerging Biopharma's Contribution to Innovation, June 2022, IQVIA
2- Inspection of Injectable Products for Visible Particulates Guidance for Industry
Ready Pack, NovaPure, Flip-Off, and FluroTec are trademarks or registered trademarks of West Pharmaceutical Services, Inc. in the United States and other jurisdictions.
Corning® and Valor® are registered trademarks of Corning Incorporated.
EZ-fill® is a registered trademark of Stevanato Group and/or its affiliates in one or more jurisdictions.
FluroTec technology is licensed from Daikyo Seiko, Ltd.