West's Global Communications Team
West on the Road–Welcome to Clearwater, Florida!
West is on the road again, traveling more than 1,000 miles from our Jersey Shore, PA, manufacturing facility—where we visited during our first installment of West On The Road —to the sunshine state, where we'll be touring our state-of-the-art Clearwater plant.
Glenn York, Engineering Manager, and Andy Phillips, Director of Operations, walk us through a typical day at the facility where, through an unsurpassed focus on quality, cleanliness and efficiency, the facility produces 15 to 20 million Flip-Off®, Flip Tear-Off®, and Flip-Off-TearOff®, all-aluminum, lined and unlined seals and closures for pharmaceutical, ophthalmic, dental and veterinary products – totaling close to 3.5 billion seals in a given year.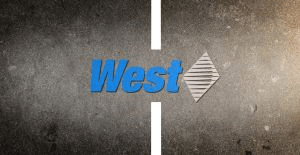 Each seal starts as just a thin coil of metal, which is fed into a stamping press to form a shell. From there, the shells are fed through a variety of other processes to customize the seal based on our customers' needs into the final product. This can include running through the West Spectra™ process to include customized colorization, wording and decoration to adding a rubber lining to taking a pass through the roll groove machine to create a specialized shape.
One of the things that sets West apart is our commitment to continuous improvement and pursuit of perfection. To that end, the Clearwater plant will soon be adding a high-speed assembly machine which, through the one-piece flow approach, will streamline the press to assembly process and allow immediate identification of any potential quality issues.