Global Communications
Exton Headquarters Celebrates West Without Borders Recipients
On Friday, May 29, team members from West's Exton headquarters hosted the 10th annual West without Borders picnic. In keeping with this year's theme of honoring veterans, Exton team members selected the Travis Manion and No Barriers foundations, which support US veterans and their families, as the beneficiaries of the fundraising efforts.
In addition to great food and fun raffles, team members were treated to a special guest – Herschel "Woody" Williams. At age 91, Woody is the only surviving recipient of the medal of honor from the Battle of Iwo Jima, which was awarded to him for his outstanding service. Woody arrived with a few family members, including his great grandson, to enjoy an afternoon of music, games and giveaways!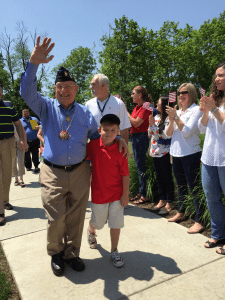 To kick off the event, the staff gathered to watch a brief video chronicling Woody's time in the South Pacific, describing his heroic performance on Iwo Jima. Woody's speech following the video was a moving recollection of what inspired him to become a marine during such a tumultuous time in US history. He explained that he proudly wore his medal to honor those whose lives were lost in battle alongside him. Woody emphasized the sacrifices made by not only members of the armed forces, but their families as well. He said that through his experience with families who have lost loved ones in war, he has found that the sacrifices made and grief felt by those families are often overlooked.
The picnic not only was a success in celebrating the sacrifice of veterans like Woody, but also gave this year's West Ambassador interns a chance to get involved in the philanthropy. Since the interns started their time at West only three days prior to the picnic, it was a great opportunity for them to work together to help facilitate a successful event that showcases the culture at West. Beginning at 9 a.m., the interns assisted the West without Borders committee in tasks that ranged from decorating the event space to serving ice cream sandwiches!
At the picnic, attendees were asked to sign plaques that will be given to the 14 Exton team members who have served in the armed forces as a small token of thanks for their service.
To date, the West team has raised more than $2.5 million through a variety of company-wide and local campaigns to help those in need around the world. This in addition to more than $6.4 million donated by the company itself to the Herman O. West foundation, which has provided grants to hundreds of local charities across the United States.