West's Global Communications Team
West Celebrates Groundbreaking of Waterford Ireland Manufacturing Facility
Today in Waterford, Ireland, West hosted a groundbreaking ceremony to mark the start of construction for the company's new pharmaceutical component manufacturing facility. The event celebrated West's continued investment in Ireland and commitment to the local Waterford community.
Waterford Mayor Cllr. James Tobin, other local officials, and West leadership were on hand for this special occasion.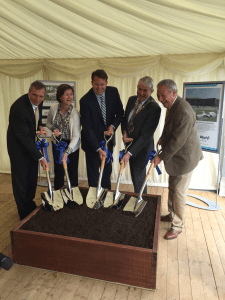 During the ceremony, Karen Flynn, President, Pharmaceutical Packaging Systems acknowledged the many representatives of the Waterford City & County Council, the Irish Government and the Irish Development Agency for their support in making this new plant a reality. She also expressed pride with West's presence in Ireland since 2005.
Newly appointed CEO, Eric Green, further explained how Waterford will address the company's future business needs. "We evaluated and considered a number of other locations in Europe and in Ireland– but Waterford was the clear winner, said Eric. "Waterford is the ideal location for our new plant –with a growing health science industry coupled with its business-friendly environment."
To demonstrate West's dedication to the communities in which we work, two charitable donations were made as part of the day's festivities. Recipients included Barnardos, a children's charity that works with vulnerable children and their families in Ireland, and Waterford Healing Arts Trust, an organization that hosts a number of programs that incorporate music, visual arts and creative writing, for patients inside and outside of the hospital setting.
The Waterford facility will function as a center of excellence for West's proprietary elastomeric sheeting, which is used to package insulin for use in pen injectors. Additionally, the facility will include manufacturing capacity for additional proprietary injectable component product lines, which are integral to many injectable and dosage forms, including Westar® RU, products that are delivered sterile and ready to use to our customers for their aseptic filling operations.
Westar® is a registered trademark of West Pharmaceutical Services, Inc., in the United States and other jurisdictions.