West's Innovation and Technology Team
Reduce Cost, Improve Adherence for Self Administration of New Biologics
Many of the newer biologic products being developed are for long-term administration in chronic disease conditions, including oncology, autoimmune disorders and high cholesterol. Historically, these biologics have been administered by costly intravenous (IV) injection in a hospital, clinic or doctor's office.
IV administration has been used due to the higher dosing requirements – upwards of 100 mg. To help improve patient compliance and lower the cost of therapy, some of these products have been reformulated down to 1 mL or below. At this volume they can be self-administered using an auto-injector for the 1 mL long pre-filled syringe.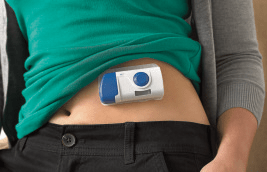 The challenge arises when a drug cannot be concentrated to fit into a 1 mL long syringe. Patient use would then require multiple injections to achieve a therapeutic dose, potentially reducing patient compliance and adherence. In addition, the concentration increases the viscosity which is problematic for many auto-injectors.
There is a trend toward wearable injectors for bolus delivery to help improve adherence and lower total cost of therapy. In one clinical study at a major multinational pharmaceutical company, a 5 minute subcutaneous injection was equivalent in efficacy to a 2.5 hour IV infusion1. This greatly improves the patient experience and can lead to improved adherence. Bolus injectors, such as the West SmartDose® electronic wearable injector, can help to address these challenges.
In addition, West has collaborated with HealthPrize Technologies, LLC to integrate HealthPrize's Software-as-a-Service (SaaS) medication adherence and patient-engagement platform with West's injectable drug delivery systems to provide an end-to-end connected health solution for pharmaceutical companies and the patients they serve. The combined offering will provide voluntary, electronically connected drug delivery systems that track when patients take their medication. The HealthPrize system engages and educates patients to help increase adherence and medical literacy, rewarding interaction and compliance with prescribed treatment plans, and contributing to better health outcomes.
To learn more about the SmartDose electronic wearable injector or any of West's injectable systems, visit our website today.
1Dias C et al, Tolerability of High-Volume Subcutaneous Injections of a Viscous Placebo Buffer, AAPS, 2015