West's Global Communications Team
West at CPhI/Innopack 2015 — Madrid
Last week, West once again exhibited at CPhI/Innopack—Europe's premier trade show that brings together approximately 36,000 senior pharmaceutical professionals from more than 150 countries. West was among the show exhibitors that included providers of packaging, finished doses, machinery, ingredients, contract services, and other related services.
West sales, marketing and technical customer service teams welcomed visitors from all over the world at the West booth and shared the company's recent innovations, while also discussing important trends in the pharmaceutical and biopharmaceutical industry.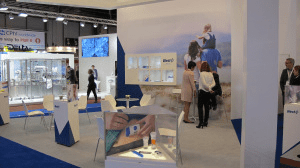 West showcased a range of the company's products and launched Daikyo RUV® (ready-to-use, validated) components. Daikyo RUV components are manufactured using clean, high-quality elastomer formulations and then washed, camera-inspected and sterilized to help reduce the customer's manufacturing footprint, streamline processes, minimize risks around component preparation and eliminate bioburden.
Visitors at CPhI/InnoPack also got deeper insight into two additional high-quality drug components during the show: Flip-Off® PlusRU seals and NovaPure® components. Flip-Off Plus are sterile, high-quality seals that consistently achieve reproducible container integrity for drug products while ensuring low levels of bioburden, which may help make drugs safer for patients. NovaPure components are developed with a process that incorporates Quality by Design principles and support customers to protect the efficacy and purity of sensitive and demanding drug products. The NovaPure product offering includes serum and lyophilization stoppers and syringe plungers.
CPhI offered a unique opportunity to exchange ideas with technology leaders and experts from across multiple markets within the pharmaceutical industry. West is already looking ahead to CPhI 2016 in Barcelona.