Caitlin Storbeck
Global Communications Associate Specialist
West Supports Fox Chase Cancer Center through the International Dragon Boat Festival
Paddling in the Philadelphia International Dragon Boat Festival has been an important part of West's Fox Chase Cancer Center campaign since its inception.
Through the campaign's efforts, West has raised more than $1.5 million dollars to support cancer research. This year, approximately $20,000 was raised by the Dragon Boat team alone.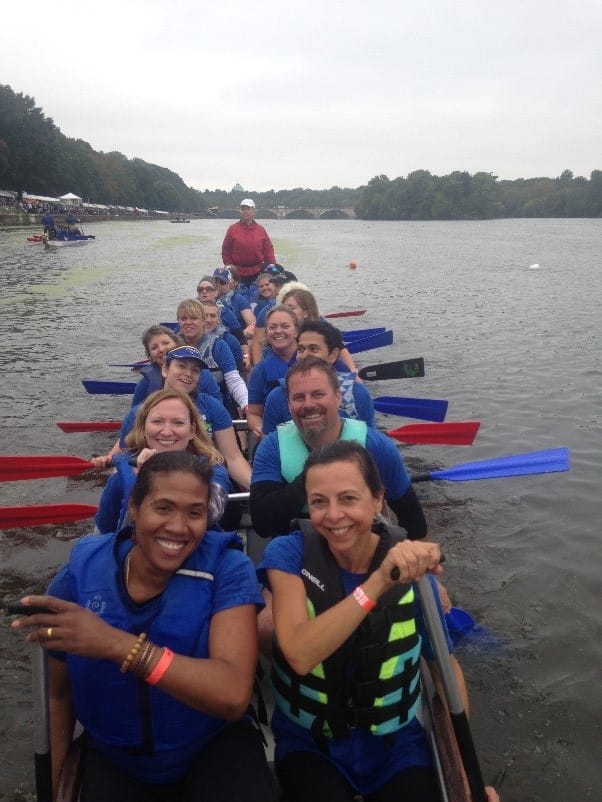 West's 2016 Dragon Boat team consisted of 22 members including employees and family members led by coaches Mark Glemser, Sr. Tech Support, and Curt Hoover, Sr. Specialist, Communications. "Seeing West employees join together for a common cause is my favorite part of this event," said Curt. Mark and Curt held three practices in the months before the race to teach paddlers stroke technique, commands, cadence and teamwork to help them on race day.
For some paddlers, the connection is extremely personal. "The first year I was scheduled to participate in the Dragon Boat Festival in 2013, I was diagnosed with breast cancer and was unable to paddle," explained West paddler, Jo-Ann Adamson, Specialist, Compliance & Legal. "I was determined that when I recovered, I would paddle in the next Dragon Boat Festival. I have participated in the races in the years since my diagnosis and surgeries. This event has a very special place in my heart, because the money raised is for cancer research at Fox Chase Cancer Center where I received my treatment."
"The Dragon Boat Festival is a fun way to spend the day with colleagues and come together for an important cause at the same time, said paddler Matt Curry, Senior Scientist. "We've all had friends and family affected by cancer, so fundraising and competing for one of the area's leading cancer research centers is a really great feeling."
This year's campaign ran from September 21 to October 7. In addition to the support raised by the Dragon boat team, money was raised through bake sales, raffles, jeans passes, and general donations. The current total is over $100,000.
Visit the West website to learn about our culture of giving.