Taylor Pendergast
Associate Specialist, Global Communications
West Dublin Facility Wins 2017 Green Pharmaceutical Award
Recently, our Dublin, Ireland facility won the 2017 "Green Pharmaceutical Award" – a long-standing benchmark of excellence for those demonstrating best green practices in Ireland. Winners were announced at the Green Awards ceremony on February 21, 2017.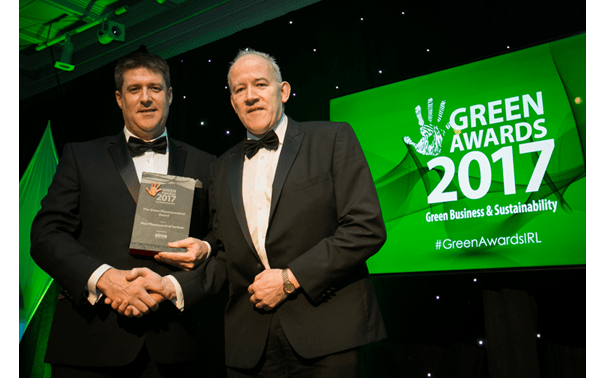 Stephen McFadden (right), Environmental Health and Safety Department, West, accepts the 2017 Green Pharmaceutical Award
West's "Green Team" in Dublin has worked on significant environmental projects that extended across a number of departments including: Environmental Health and Safety, Lean Manufacturing, Facilities, Maintenance and Warehousing.
The team's efforts, and the resulting Green Award, are evidence of West's commitment to Corporate Responsibility--specifically within the area of Environmental Sustainability.
Some of the Dublin facility metrics include:
30%

energy reduction by installing energy efficiency systems. 750,000 kilowatt hours saved annually, or the equivalent electricity used by 150 family homes for one year

99%

of waste diverted away from landfills

80%

reduction in gas use through recycling heat energy

100%

of electricity from renewable energy sources such as wind or water

400

truck journeys eliminated annually

70

tons of carbon dioxide saved by production and packaging optimization
The Green Awards were judged by a panel of 15 domestic and internationally based experts. West was up against tough competition in the Green Pharmaceutical Award category, including some of the world's top pharmaceutical and biopharmaceutical companies.
We are very pleased to have received the 2017 Green Pharmaceutical Award. Our Dublin facility is doing a great job to improve energy use and reduce West's carbon footprint. These changes have not only increased efficiency, but reduced the overall cost of doing business.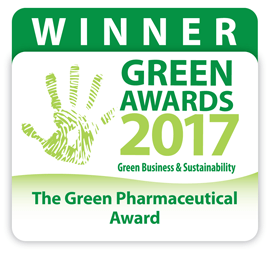 For more information about the Green Awards, visit www.greenawards.ie.